Bürstenmacherfest 2023 Celebrates 200 Years of Brush Fabrication in Saxony
Bürstenmacherfest, an annual festivity organized by the local brushware fabricators, is set to take place September 9-10, 2023, to celebrate more than 200 years of brush fabrication in the region. The event will take place in the Ore Mountains, near the border to the Czech Republic, and will feature brushware fabricators opening their doors to the public, offering tours of their production facilities, and hosting family-friendly activities.
The Bürstenmacherfest is an opportunity to showcase the impact of this specific craft on the local economy and culture. This year's event will be even more special with the addition of a brushware market featuring providers from different parts of Europe. The market will take place on September 9, and organizers are currently seeking brushware fabricators or vendors who would like to run a sales booth.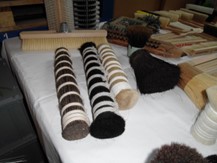 Organizers are offering vendors two overnight stays, including breakfast for two persons from September 8-10, no booth fee, a sales booth if required, and German and English-speaking contacts during the weekend. In return, vendors are expected to run their sales booth on Saturday, September 9, from 10:00 a.m. to 4:00 p.m. and demonstrate their craftsmanship during the market.
The number of available sales booths is limited, and interested vendors are encouraged to contact tourist.info@gemeinde-schoenheide.de as soon as possible to secure their spot.