The Clean-Fit Products division of Mill-Rose is now offering Monster Wipes Industrial Towels — a tough, synthetic-based disposable wiper offering superior wet strength and versatility. With 550% absorbent capacity, Monster Wipes are great for cleaning up water, solvent and oil-based spills.
Monster Wipes' latex-free fabric is soft, virtually lint-free, for delicate wiping applications, while providing superior strength for cleaning grease and grime off tools, parts and a range of hard surfaces.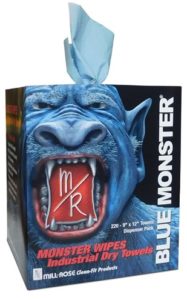 Tough and versatile, Monster Wipes allow for repeated use, yet are disposable whenever a clean towel is needed. Blue Monster® Monster Wipes are available in a self-feeding container that includes 220 9" x 12" industrial towels and sold at leading PHC supply houses.
Blue Monster products are offered exclusively by Clean-Fit Products, a division of The Mill-Rose Company. For further information, visit www.cleanfit.com.
Blue Monster MONSTER WIPES Industrial Towels feature superior wet strength and versatility.