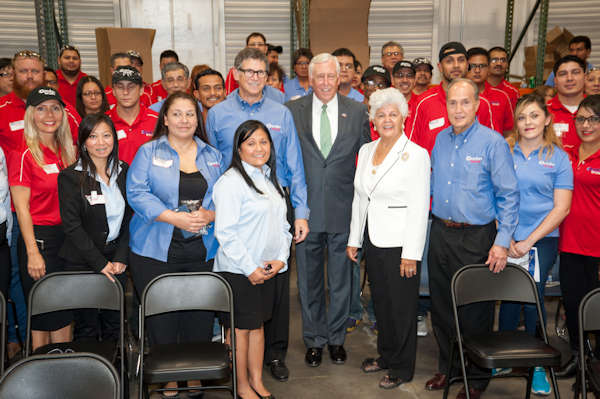 In 2016, Gordon Brush Mfg. Co., Inc., hosted Congresswoman Grace Napolitano and House Majority Leader Steny Hoyer at their 183,000 square foot manufacturing complex in the City of Industry, CA. "Gordon Brush® was honored to have Congresswoman Napolitano and Majority Leader Hoyer tour our facility," noted Gordon Brush's President and CEO, Ken Rakusin. "We are thrilled that they share our commitment to United States manufacturing and organizations promoting American manufacturing and American-made goods."
Launched by House Democrats in 2010, the "Make It In America" plan was created to encourage private sector job creation in the U.S. Over the past nine years, more than seventeen Make It In America bills have been signed into law. Rep. Napolitano participated in the "Make It In America: What's Next?" hearings led by Majority Leader Hoyer to discuss how Congress can address today's economic challenges and capitalize on new economic opportunities, including how we can help more businesses innovate and make their products here in the U.S. Based on the feedback they received during the hearings, House Democrats unveiled a new Make It In America plan in June focused on four areas of action: expanding entrepreneurship & innovation, closing the skills gap, building a 21st century infrastructure, and breaking down barriers to manufacturing in the U.S.
Patriotism is paramount at Gordon Brush® which has been steadfast in commitment to manufacturing in the United States even under competitive threats. Gordon Brush® is focused on making higher quality and specialty items. "When you look at our products next to similar items from China there are no comparison. Promoting American made is vital to the strength, health, and viability of the United States."
Many end users are willing to sacrifice cost over quality. "We are determined to build and grow our business in the United States. It was very difficult at first. Companies that have nothing to differentiate themselves with besides price are the most vulnerable to the threat of lower priced Chinese made products; which is a no-win game." Gordon Brush® chooses to compete on value-added.
Most important to Gordon Brush® are its valued, long-tenured, skilled employees. Gordon Brush® is a great place to work and we are committed to enhancing their lives." "There are tremendous problems all over the world, said Rakusin. "We can't fix them all. But what we can do is to act locally. We start here. Our priority is to help our Gordon Brush® community. That means keeping our business here no matter how tough it gets."
Learn more about Gordon Brush at: www.gordonbrush.com