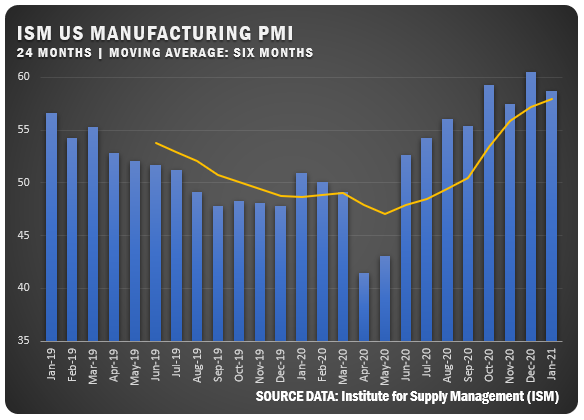 Supply Chain Issues and Labor Shortages Present Challenges
Manufacturing in India showed strength with a reported 57.7 PMI from Markit Economics, which represented a fourth straight month of improvement. Italy had a second straight month of growth and a big uptick to a reported PMI of 55.1 percent after registering 52.8 in December. That represents Italy's highest level since February 2018.
UNITED STATES: ISM® reported a US manufacturing PMI of 58.7 percent, down 1.8 percentage points from the December reading of 60.5 percent, which was the highest mark since August 2018. "Manufacturing performed well for the eighth straight month, with demand, consumption and inputs registering strong growth compared to December. Labor market difficulties at panelists' companies and their suppliers will continue to restrict the manufacturing economy expansion until the coronavirus (COVID-19) crisis abates," says Timothy R. Fiore, ISM® Manufacturing Business Survey Committee Chair.
INDIA: IHS Markit reported a three-month high of 57.7 percent for manufacturers in India. The number was also the second-highest for India after the decade-high of 58.9 from October of 2020. Employment continued to fall, but input cost inflation increased to a 28-month high. Confidence in business outlook improved based on the ongoing vaccine rollout and increased marketing budgets.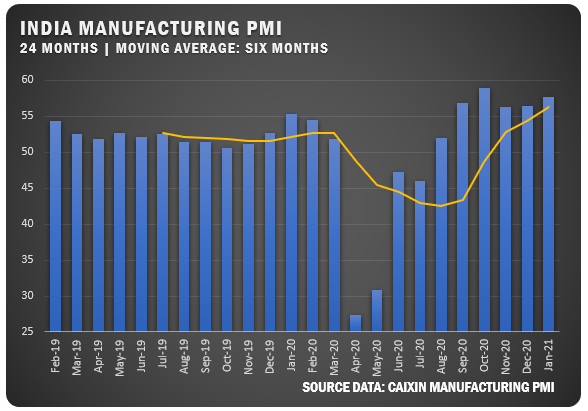 GERMANY: IHS Markit/BME reported a Germany manufacturing PMI of 57.1 percent in January, which was down slightly from 58.3 in December. German manufacturing, however, continues to show growth as the figure remained above 55 percent for the fifth straight month thanks to continuing gains in both output and new orders. Factory job losses slowed but supply chain bottlenecks due to shortages of materials and shipping containers caused a spike in expenses. Optimism was at a record-high for January.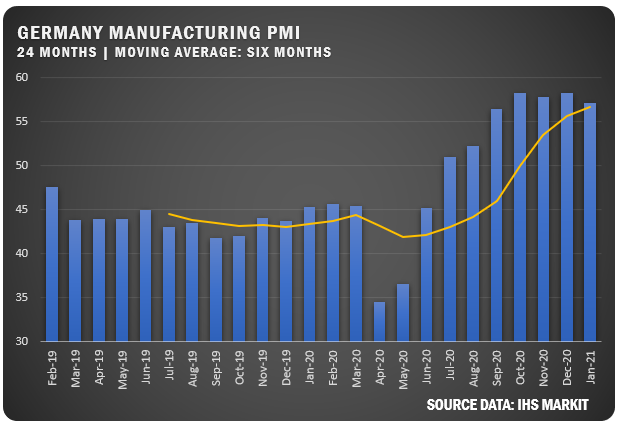 ITALY: Italian manufacturers rose from 52.8 percent in December to reach a PMI figure of 55.8 percent according to IHS Markit. From a chartist viewpoint, the new reading made the November and December figures look like aberrations. Despite the strong performance, disruptions to supply chains intensified and lead times increased causing the rate of input price inflation to approach a four-year high.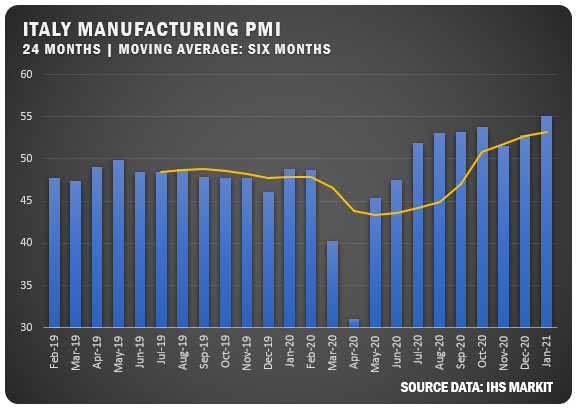 EUROZONE: The Euro Area expanded for a seventh straight month at a strong pace to register a 54.8 percent PMI for January. That was off the December reading of 55.2 as the improvement in operating conditions was minimal due to a drop in new orders. However, expansion continued for the intermediate and investment goods sectors. The Netherlands and Germany showed the strongest manufacturing growth based on strong export bases.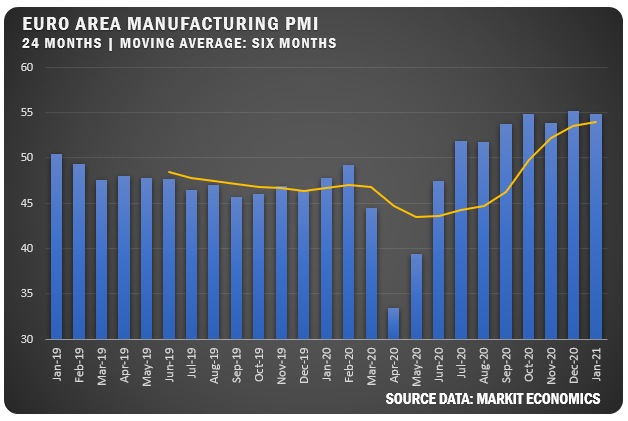 UNITED KINGDOM: UK manufacturers saw a sharp dropoff in January with a reported IHS Markit/CIPS manufacturing PMI of 54.1 percent — down 3.4 points from the December reading of 57.5. The UK manufacturing sector slowed as new orders fell slightly due to weaker inflows of new export work and supply-chain issues related to both Brexit-induced transport delays and COVID-19 restrictions. On the upside, UK manufacturing employment rose for the first time in a year.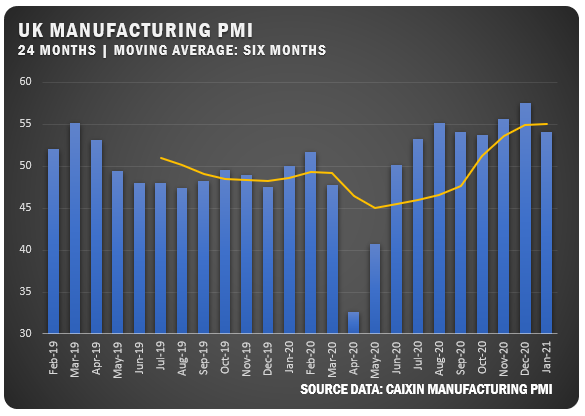 CHINA: The strong surge for Chinese manufacturers that ran through November 2020 all of the sudden seems distant as the Caixin China General Manufacturing PMI registered a seven-month low of 51.5 percent in January. That followed a December number of 53.0 that was well short of the November high of 54.8 percent. Buying levels were weak and employment fell after stabilizing in December, while backlogs of work reached their lowest level in eight months. Additionally, Chinese business outlook sentiment reached an eight-month low.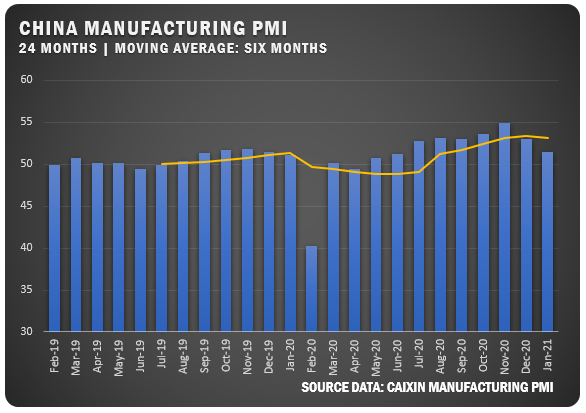 US SECTOR REPORT
ISM GROWTH SECTORS (16): Electrical Equipment, Appliances and Components; Machinery; Primary Metals; Chemical Products; Fabricated Metal Products; Plastics and Rubber Products; Transportation Equipment; Apparel, Leather and Allied Products; Paper Products; Wood Products; Food, Beverage and Tobacco Products; Nonmetallic Mineral Products; Furniture and Related Products; Miscellaneous Manufacturing; Textile Mills; and Computer and Electronic Products. 
ISM CONTRACTION SECTORS (2): Printing and Related Support Activities; and Petroleum and Coal Products.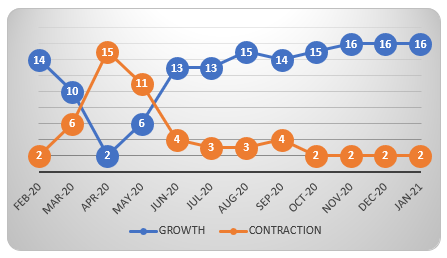 ISM
®
REPORT COMMENTS
"Business is very good. Customer inventories are low, with a significant order backlog through April. Supply base is struggling to keep up with demand, disrupting our production here and there. Raw material lead times have been extended. COVID-19 continues to cause challenges throughout the supply chain. Huge logistics challenges, especially in getting product through ports and in getting containers. We are seeing significant cost increases in logistics and raw materials." (Machinery)

"Business remains strong. Manufacturing running at full capacity." (Chemical Products)

"Very strong demand with limitations in supply to meet increased demand." (Transportation Equipment)

"Labor continues to be one of our largest challenges." (Food, Beverage and Tobacco Products)

"Our current business demand is going way past pre-COVID-19 [levels]." (Fabricated Metal Products)

"January 2021 started with strong orders for plastic components in auto, electrical and other sectors. The industry outlook is optimistic. Looking at investing in new equipment for anticipated demand later this year. Reshoring is taking hold, with new customer potential." (Plastics and Rubber Products)

"We have had an increase in employees testing positive for COVID-19, negatively impacting manufacturing." (Miscellaneous Manufacturing)

"Supplier factory capacity is well utilized. Increased demand, labor constraints and upstream supply delays are pushing lead times. This is more prevalent with international than U.S.-based suppliers." (Computer and Electronic Products)

"2020 growth at 5 percent during a very challenging and volatile year. 2021 is expected to bring growth at a 7-percent or even greater pace. Logistics is the critical concern, but we are currently abating risk." (Electrical Equipment, Appliances and Components)

"Business is improving, but we are still struggling with a shortage of available labor." (Primary Metals)
Source: Institute for Supply Management®, ISM®, PMI®, Report On Business®. For more information, visit the ISM® website at www.ismworld.org.