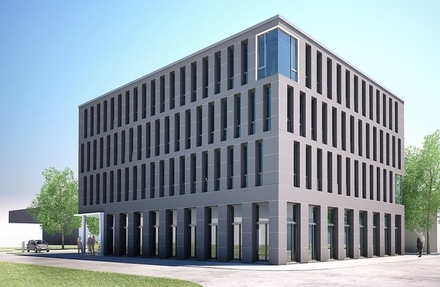 Lessman has announced the completion of a new administration building in Oettingen in Bayern, Germany. The structural work for the new office building was completed at the beginning of July and celebrated with a topping-out ceremony in a small selected circle.
After the topping-out ceremony by the site manager and master carpenter of the building company, Jürgen Lessmann, technical managing director, thanked all companies involved in the construction. The managing director of the building company gave a short speech about the long-standing cooperation, during which five buildings have been built on the company site in Oettingen in the recent years. Finally, the architect was pleased with the successful and architecturally interesting project and indicated it will provide inspiration for further building measures at the Oettingen family business.
The project was initiated due to a lack of space in the current offices and the aging administration building (built in 1978). The new project was a turning point in the company's construction history as the oldest building at the site (the family's former residential and office building constructed in 1954) had to make way for the new project.
Construction of the new administration building began in April 2019, with completion and occupation planned for May 2021. It has 580 m² in area and is more than 15 m high and extends over four levels. The shell of the building contains 1200 m³ of concrete and 250 tons of steel. On the ground floor, there is a modern entrance area, a spacious canteen and the personnel office. Social rooms are accommodated in a new connecting building to production. On the three upper floors, there are offices as well as several meeting points, small kitchens and retreat areas for individual use. The building will be equipped with the latest technology and features the most modern heating-cooling ceilings to ensure a pleasant room climate at all times. There are a total of 188 floor-to-ceiling windows on the outer face and a skylight in the middle of the building, which extends through all floor levels, to provide natural light to all rooms in the building.
"We want to offer our employees a modern working environment in which they feel comfortable. In addition, with this building we create good conditions for employee training, customer training or various industry meetings. And last but not least, we have sufficient space for further company growth," says Managing Director Jürgen Lessmann.