Global manufacturing also remains weak with the exception of strong performance for India
The ISM® US Manufacturing PMI® was reported at 46.9 percent for May, down slightly from the 47.1 percent reading in April. The figure represented a seventh consecutive month in contraction territory for US manufacturers and continued and overall downward trend that dates back to November of 2021.
"Price instability remains and future demand is uncertain as companies continue to work down overdue deliveries and backlogs," says Timothy R. Fiore, Chair of the ISM® Manufacturing Business Survey Committee. "Seventy-six percent of manufacturing gross domestic product (GDP) is contracting, up from 73 percent in April. A larger number of industries contracted strongly, as the proportion of manufacturing GDP registering a composite PMI® calculation at or below 45 percent — a good barometer of overall manufacturing weakness — increased to 31 percent in May, compared to 12 percent in April. May performance was clearly weaker compared to April."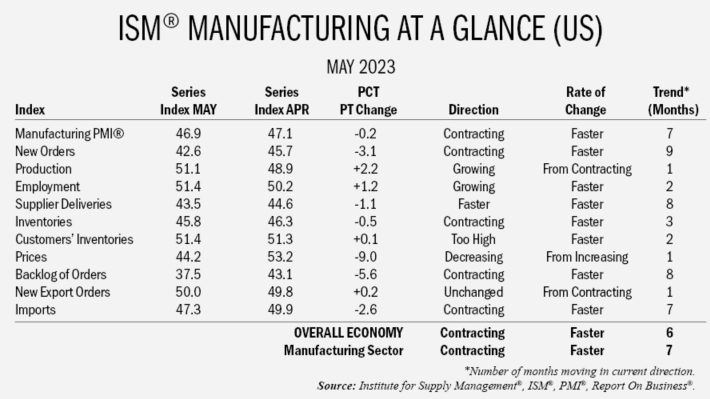 ISM® REPORT COMMENTS (US Manufacturers)
"Overall impact for our business is mixed. Our scientific instrumentation business continues to be weakened by lending to support capital purchasing, while services and consumables stay on track and continue to increase in some markets. Hiring has slowed in response to continued global uncertainty on inflation and unrest in Europe."

Computer and Electronic Products 

"Demand continues to gain momentum due to new business pipelines finally yielding billable production. Personal care and home care are drivers."

Chemical Products

 

"We continue to have a strong backlog for our customer orders; however, new orders are slowing. Our supplier on-time delivery continues to be a challenge for us, and we still face price increases on a weekly basis. Labor shortages are getting better within our organization and throughout our supply chain."

Transportation Equipment

 

"Pricing seems to be becoming the primary focus of supply and sourcing teams, as customers and consumers are beginning to push back. While inflation is easing on some discretionary goods, high food costs persist across most categories."

Food, Beverage and Tobacco Products 

"Business is returning to pre-pandemic levels. There is increased demand in commercial/government markets and reduced demand in residential/consumer markets."

Machinery 

"Less volatility in customer demand from one month to six months out; seeing signs of slowing in the second half of 2023 and potentially into early 2024. Logistics, particularly from East Asia, continue to return to historical-level transit times; Europe and India remain elevated. Supply shortages are limited to select items only. Suppliers are still seeking price increases but are too late to be asking now."

Fabricated Metal Products

 

"Although sales are slightly lower, they are holding at current rate — soft, not catastrophic."

Furniture and Related Products

 

"Moderate increase in customer orders/demand, supplier deliveries improving, and raw material prices stable to soft."

Plastics and Rubber Products

 

"Business conditions are good, demand remains strong, and we are continuing to ramp up production to keep up."

Miscellaneous Manufacturing 

"Industrial and high-tech demands are pushing out, as a slowdown is clear. This is stunting growth and currently making 2023 demand look flat to only slightly up, compared to original projections of 10-percent growth."

Electrical Equipment, Appliances and Components 
US SECTOR REPORT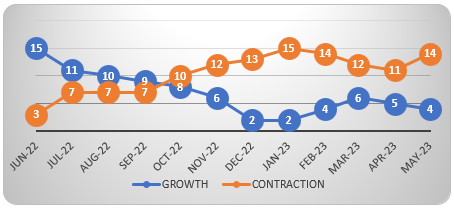 ISM® GROWTH SECTORS (4): Nonmetallic Mineral Products; Furniture and Related Products; Transportation Equipment; and Fabricated Metal Products.
ISM® CONTRACTION SECTORS (12): Wood Products; Primary Metals; Apparel, Leather and Allied Products; Textile Mills; Paper Products; Printing and Related Support Activities; Petroleum and Coal Products; Chemical Products; Food, Beverage and Tobacco Products; Computer and Electronic Products; Electrical Equipment, Appliances and Components; Plastics and Rubber Products; Miscellaneous Manufacturing; and Machinery.
GLOBAL MANUFACTURING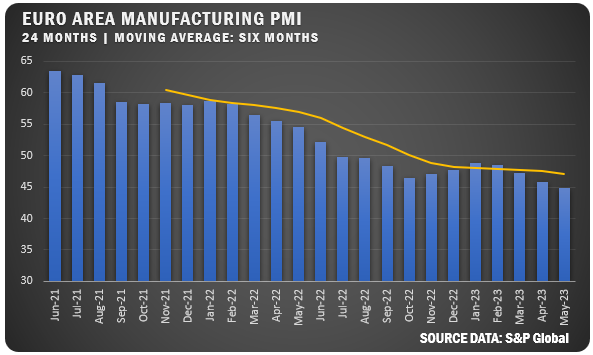 EUROPE: The HCOB Eurozone Manufacturing PMI was reported at 44.8 percent for May to continue a four-month and reach the lowest reading since May of 2020. Output dropped and new orders and exports also experienced rapid deceleration. Backlogs decreased and employment was at a 28-month low. Input costs decreases and output charges also moved down, while business confidence also fell but consumer confidence was nearly flat.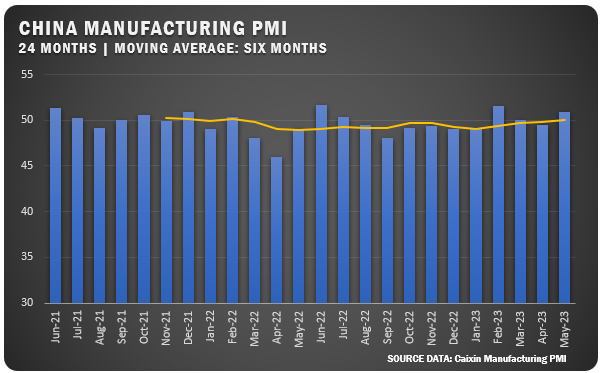 CHINA: The Caixin China General Manufacturing PMI saw an unexpected increase to 50.9 percent for May after registering 49.5 percent in April. Output and new orders jumped as exports continued to increase. Buying activity was positive but employment had a sharp dropoff. Delivery times improved and input prices fell thanks to lower prices of metals, food, and fuel. Output prices moved down as market competition heated up. Consumer confidence was up slightly, but business confidence fell. "Current economic growth lacks internal drive and market entities lack sufficient confidence, highlighting the importance of restoring demand," says Dr. Wang Zhe, an economist at Caixin Insight Group.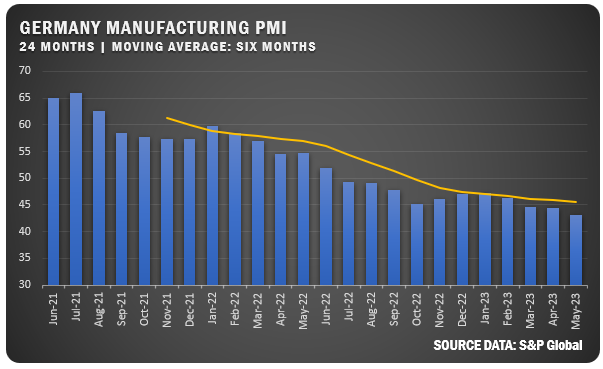 GERMANY: The HCOB Manufacturing PMI for Germany fell to 43.2 percent for May was the lowest reported figure since May of 2020. Customers de-stocked and that led to weaker demand and lower output for German manufacturers. New orders were at a six-month low and exports were also weak. Lead times continued to improve and input prices fell. Employment improved, but business confidence fell for the first time in 2023.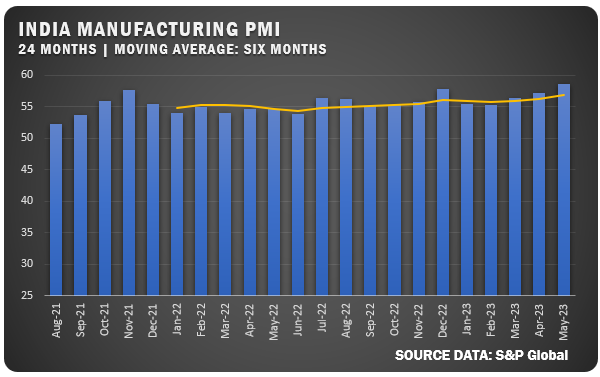 INDIA: Indian manufacturing continued to set a strong pace as the S&P Global India Manufacturing PMI was reported at 58.7 percent for May, up from a 57.2 percent reading in April. The figure represented the strongest improvement in factory output since 2020 as demand remains strong. Output, new orders, exports and employment all saw strong improvement for the country's manufacturers. Input purchasing continued to grow which pushed up inventories. Lead times improved, while input costs rose slightly. Output prices hit a new one-year high based on strong demand. Business confidence reached a new five-month high.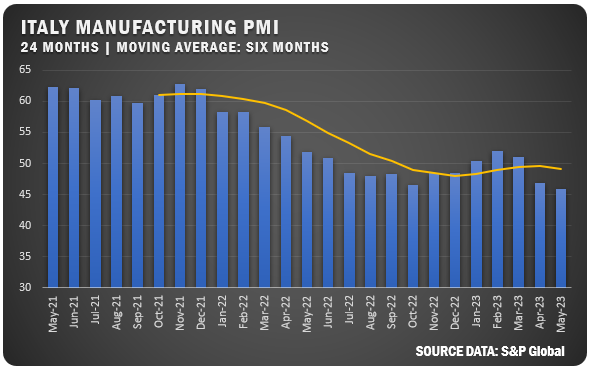 ITALY: Italian manufacturing saw the steepest contraction since 2020 as the HBOC Italy Manufacturing PMI was reported at 45.9 percent for May, down from 46.8 percent the previous month. New work dropped, but employment activity saw modest improvement. Input prices fell and output prices also decreased for a third straight month. Accordingly, business and consumer confidence also saw decreases.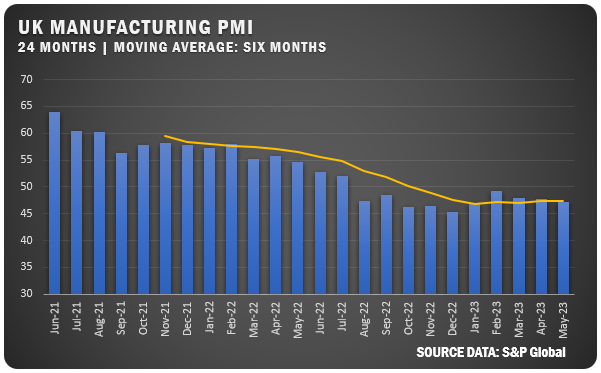 UNITED KINGDOM:  The S&P Global / CIPS UK Manufacturing PMI was reported at 47.1 percent for May, reaching a fourth-month low. This was slightly above projections but the weak performance was driven by a struggling domestic market sentiment, lower export orders and client inventory reduction, which negated the benefits from improved supply chain logistics. However, UK manufacturers saw input prices fall for the first time in more than three years.

Source: Institute for Supply Management®, PMI®(Purchasing Manager Index), Report On Business®. For more information, visit the ISM® website at www.ismworld.org.