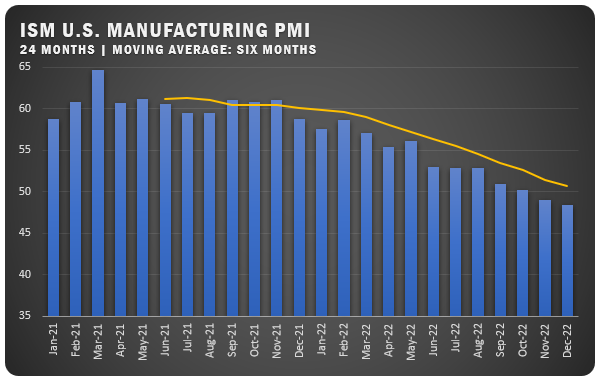 The December ISM® Report On Business® gave a PMI reading of 48.4 percent for US manufacturers which continued an overall downward trend that dates back to November 2021. It was also the second straight month in contraction territory for US manufacturing. 
Timothy R. Fiore, CPSM, C.P.M., Chair of the Institute for Supply Management® (ISM®) Manufacturing Business Survey Committee says "Panelists' companies continue to judiciously manage hiring. The month-over-month performance of supplier deliveries was the best since March 2009. Average lead time remained 32 percent above (the) previous trough for capital expenditures and 37 percent for purchased materials; both are too high. Managing head counts and total supply chain inventories remain primary goals as the sector closes the year. More attention will be paid to demand as we enter the first quarter to shore up order books for the next six to 12 months," says Fiore.
The Manufacturing PMI® figure is the lowest since May 2020, when it registered 43.5 percent. The New Orders Index remained in contraction territory at 45.2 percent, 2 percentage points lower than the 47.2 percent recorded in November. The Production Index reading of 48.5 percent is a 3-percentage point decrease compared to November's figure of 51.5 percent.
Survey panelists report softening new order rates over the previous seven months and the December composite index reading reflects slowing output from companies. Demand eased, with the New Orders Index remaining in contraction territory, New Export Orders Index is below 50 percent, the Customers' Inventories Index is in 'just right' territory, and the Backlog of Orders Index is recovering slightly but still in strong contraction.
ISM® REPORT COMMENTS (US Manufacturers)
"Skilled labor shortages are huge, putting a lot of pressure on existing personnel. Electronic components still a major supply chain issue, particularly if the component you need is not the current hot technology." Computer and Electronic Products
"Customer demand continues to be depressed. While 2023 pipeline is looking very positive, current demand is significantly down." Chemical Products
"Orders are really slowing down in the original equipment sector. We haven't seen a major output decrease because we are still eating away at our back orders." Transportation Equipment
"Lead times are returning to normal for most of our suppliers, while some of our smaller suppliers are struggling to remain staffed up enough to keep up with orders." Food, Beverage and Tobacco Products
"The continued uncertainty in the economy has resulted in customers delaying their commitments for capital purchases, which is impacting our fourth quarter sales and lowering our forecast for the first quarter of 2023." Machinery
"Business is slowing down and forecast to decrease by the end of the first quarter or second quarter." Fabricated Metal Products
"Trying hard to keep the wheels moving to close out the year strong. The manufacturing plants are nearing their annual outage periods, and some TLC is needed to keep things running." Nonmetallic Mineral Products
"Finished the year strong, and we are pleased with how the year shaped up." Primary Metals
"New China technology trade restrictions have impacted our business and plans going forward." Electrical Equipment, Appliances and Components
"Overall, supply chain conditions have stabilized tremendously since the fourth quarter of 2021. Issues remain, but the list is quite a bit shorter. Customer demand is very strong, and the outlook is positive for 2023. There is large focus on margin recovery after this period of high inflation." Miscellaneous Manufacturing
US SECTOR REPORT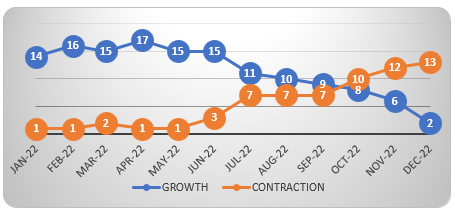 ISM® GROWTH SECTORS (2): Primary Metals; and Petroleum and Coal Products.
ISM® CONTRACTION SECTORS (13):
Wood Products; Fabricated Metal Products; Chemical Products; Paper Products; Plastics and Rubber Products; Electrical Equipment, Appliances and Components; Furniture and Related Products; Apparel, Leather and Allied Products; Computer and Electronic Products; Machinery; Food, Beverage and Tobacco Products; Transportation Equipment; and Miscellaneous Manufacturing.
GLOBAL MANUFACTURING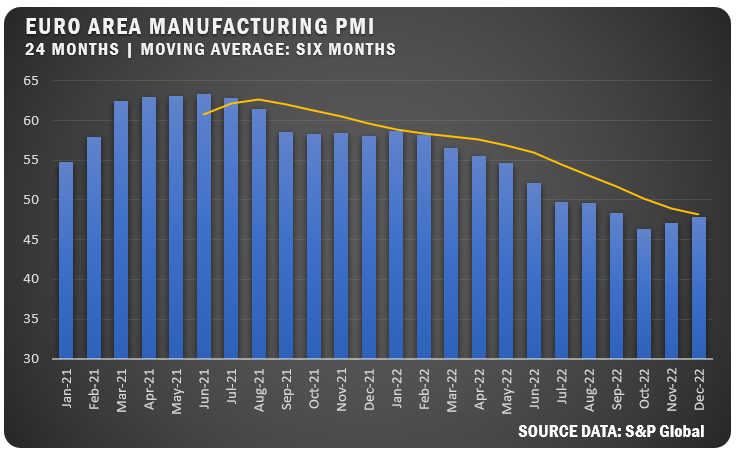 EUROZONE: The S&P Global Eurozone Manufacturing PMI increased to 47.8 percent in December 2022, indicating a slight improvement in the sector. Manufacturing output decreased at a slower rate than the previous month and factory sales saw the smallest decline in four months. Employment growth slowed while backlogs of work decreased significantly. Input cost inflation remained high but slowed compared to the previous month. Business confidence improved despite concerns about inflation.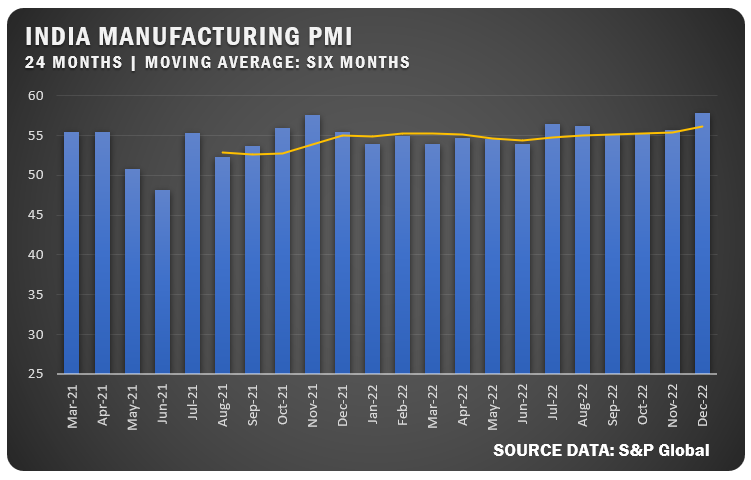 INDIA: The S&P Global India Manufacturing PMI surged to 57.8 percent in December 2022 to continue 18 straight months of expansion. Output grew, new orders soared and buying levels also improved. Employment saw a 10th straight month of growth. Export sales improved, but at a slower pace. Suppliers were able to accommodate the uptick in input demand to keep lead times on track. The business outlook was positive based on solid demand.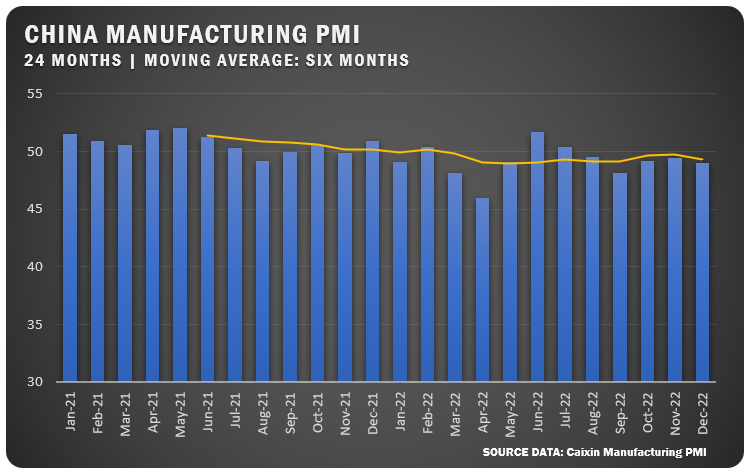 CHINA: The Caixin China General Manufacturing PMI slipped to 49.0 percent in December 2022 halting an upward trend for October and November. COVID again affected production as output, new orders and export sales all decreased. Buying activity dropped the most since and employment fell for a ninth straight month. Lead times grew and are projected to continue extending. Prices increased modestly based on cost increases for specific materials like metals. However, companies continued to lower selling prices in an attempt to land new business. The business outlook is positive and firms hope for improvement on the COVID front.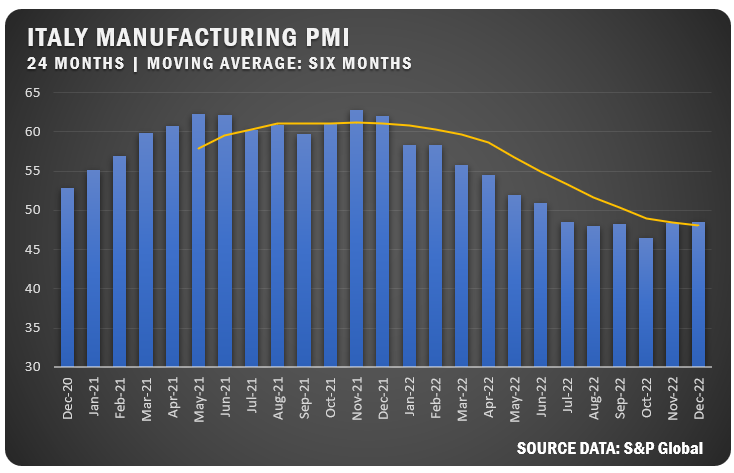 ITALY: The S&P Global Italy Manufacturing PMI moved up slightly in December for a reading of 48.5 percent, up just a tenth from 48.4 percent in November. Input buying decreased as firms reacted to weaker sales figures. Input lead times extended with materials shortages and transportation issues causing delays. Employment increased slightly and and prices also continued to push up due to higher energy and materials costs. Business outlook was high as companies anticipate improvements in demand and new investments.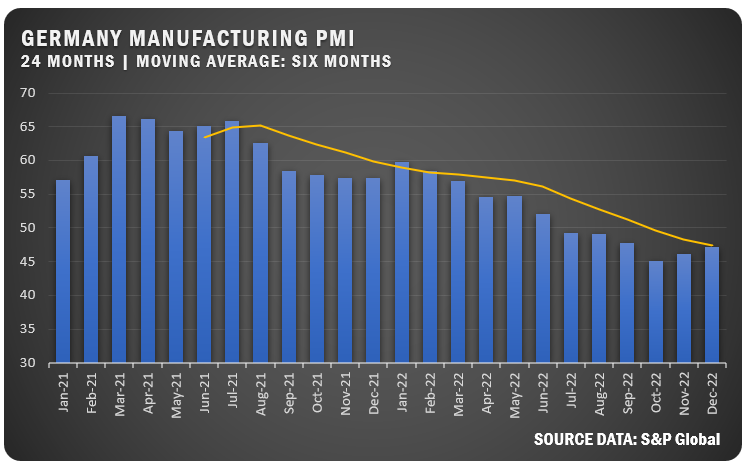 GERMANY: The S&P Global/BME Germany Manufacturing PMI bumped up to 47.1 percent for December to offer a second straight month of improvement. Improved availability of materials reduced average lead times to provide a boost for manufacturers. However, new orders were off for a ninth straight month indicating a lack of confidence from buyers. Input costs fell but are still high due to energy prices. The business out improved to the highest level since March 2021.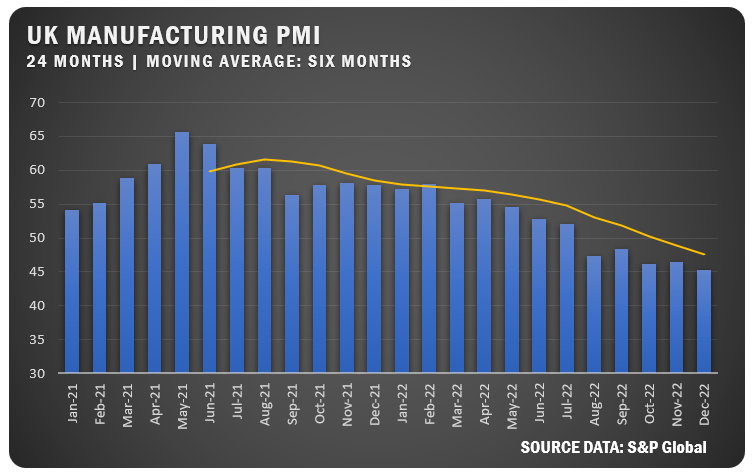 UNITED KINGDOM: The S&P Global/CIPS UK Manufacturing PMI dropped to 45.3 percent in December falling from the November mark of 46.5. It was the lowest reported index figure in 31 months for UK manufacturers. Output, new orders, employment and stocks of purchases dropped sharply. 
Credits: Institute for Supply Management®, PMI®(Purchasing Manager Index), Report On Business®. For more information, visit the ISM® website at www.ismworld.org.