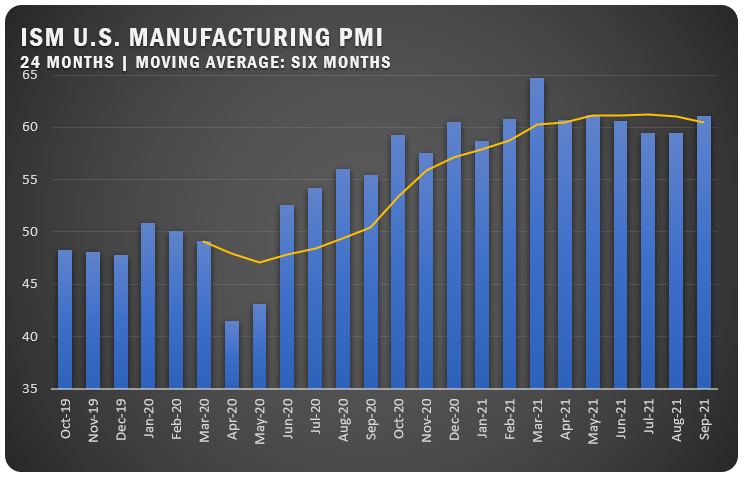 India and China also register upward PMI figures for the month
The global trend is relentlessly familiar as supply chain issues continue to plague manufacturers while demand remains strong. For September, progress diverged as European countries saw lower PMI readings, while the US, China and India registered improvement. For China and India, the positive readings were welcome as both have endured long downward trends with China's slide dating back to November 2020.
UNITED STATES: ISM® reported an improved PMI of 61.1 percent for US manufacturing in September, which ended a three-month downward trend. In fact, the September reading represented the second-highest figure in the past 36 months for US manufacturers and is the 16 straight month above the 50 percent line.
However, the strong performance masks underlying issues as Timothy R. Fiore, Chair of the ISM® Manufacturing Business Survey Committee says, "Business Survey Committee panelists reported that their companies and suppliers continue to deal with an unprecedented number of hurdles to meet increasing demand. All segments of the manufacturing economy are impacted by record-long raw materials lead times, continued shortages of critical materials, rising commodities prices and difficulties in transporting products. Global pandemic-related issues — worker absenteeism, short-term shutdowns due to parts shortages, difficulties in filling open positions and overseas supply chain problems — continue to limit manufacturing growth potential. However, optimistic panel sentiment remains strong, with three positive growth comments for every cautious comment."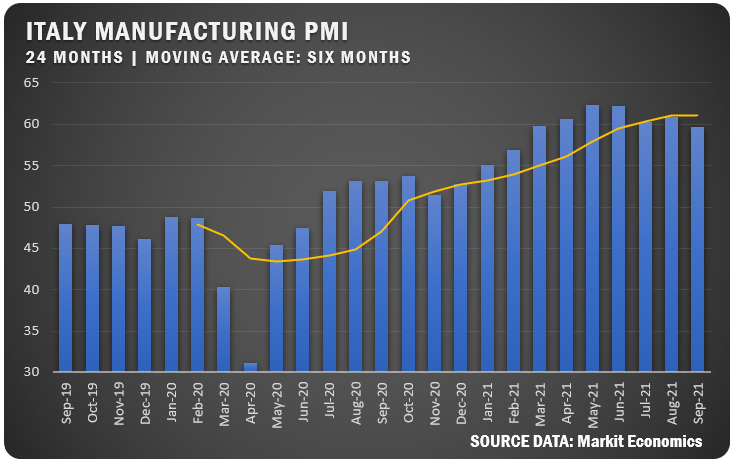 ITALY: IHS Markit reported a 1.2 percent drop for Italian manufacturing in September with a reading of 59.7 percent for the month. Production and new orders showed increases, but supply chain issues pushed up the average lead times. Backlogs increased at faster rate pushing up employment figures. Input cost inflation was high pushing up prices.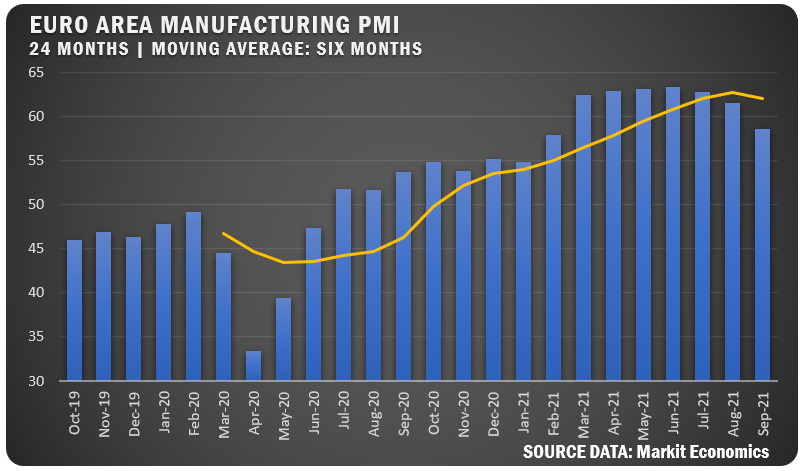 EUROZONE: IHS Markit reported a Eurozone Manufacturing PMI of 58.6 percent in September as the region saw a steep drop from the 61.4 figure for August and a third straight month of decline. Additionally, it was the lowest reading since February, but the figure still indicates a strong operating environment for the region.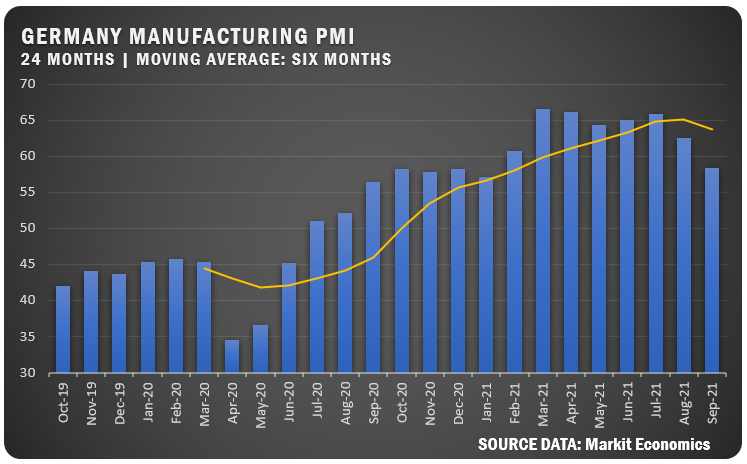 GERMANY: The IHS Markit/BME Germany Manufacturing PMI dropped 4.2 percent from August to register a September figure of 58.4 percent. In fact, PMI from the region has dropped 7.5 percent since July and the reading indicated the slowest growth in factory activity in eight months. Supply chain issues are to blame as output levels are under stress and new orders are showing signs of weakness.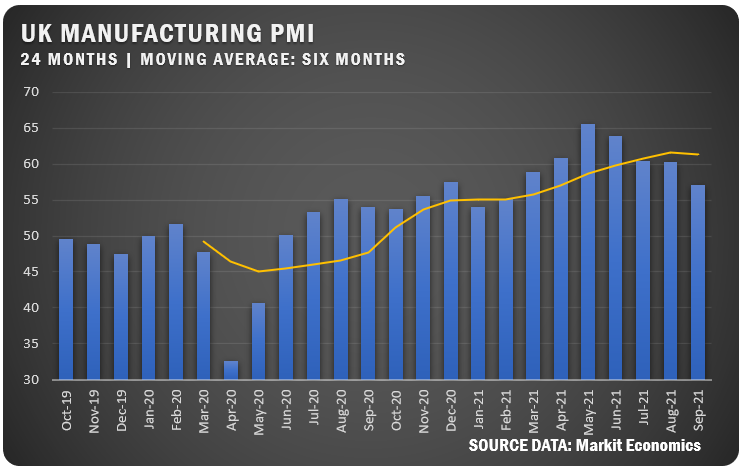 UNITED KINGDOM: IHS Markit/CIPS reported a UK Manufacturing PMI of 57.1 percent for September, falling well short of the August figure of 60.3 percent. Following the Eurozone trend, the figure was the lowest reading for UK manufacturers since February. On the other hand, manufacturers were positive on business outlook, citing the potential for recoveries in the domestic and global markets as supply chain issues start to resolve and expected improvement on Brexit-related issues and the COVID-19 situation.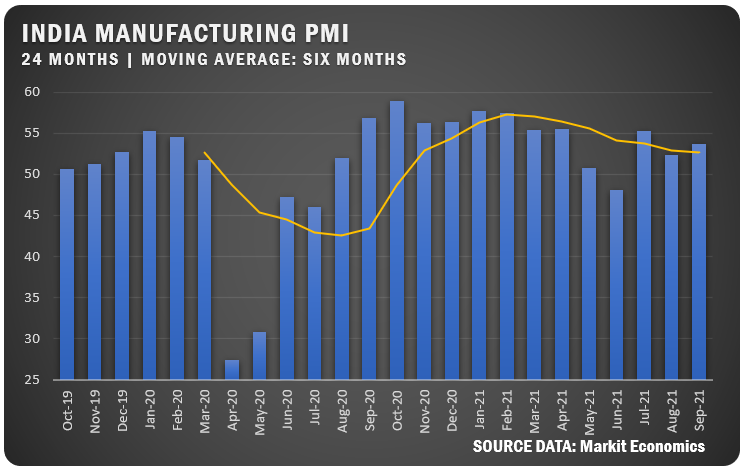 INDIA: IHS Markit reported growth for Indian manufacturers with a September PMI of 53.7 percent, up 1.4 percent from August. Output and new orders increased as the COVID-19 restrictions were relaxed. Export orders also increased but employment saw no improvement.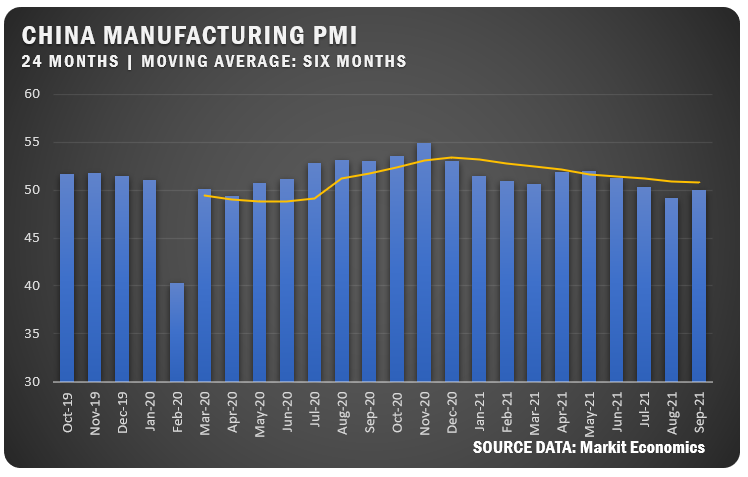 CHINA: The Caixin China General Manufacturing PMI was reported as 50.0 percent for September 2021 to move up from a 49.2 reading in August. The upward movement stopped a four-month slide and business optimism improved based on the promise of an end to the pandemic, company expansions, rising customer demand and new product launches.
ISM® REPORT COMMENTS (U.S.)
"Delivery and availability of raw materials, primarily carbon steel, are becoming more and more difficult to source. This has resulted in delaying order deliveries. Computer numerical control (CNC) machining services are at a premium; it's difficult to get the deliveries needed to complete jobs. Traditional in-house machining now has to be outsourced due to a lack of experienced machinists. All this has had a negative impact on production throughput." Fabricated Metal Products
"Our company's entire supply chain continues to have significant challenges getting manpower, which is impacting production of parts and ability to meet daily build schedules. Additionally, the logistics problems — especially port delays and a shortage of shipping containers — are significantly impacting inbound and outbound shipments. Raw materials costs still are at record highs, and we have raised customer pricing, with additional increases in the near future due to labor costs going up. Huge customer orders are nine months out (due to) backorders. Seeing this domestically and internationally." Machinery
"Many electronic components and assemblies shortages showing up (due to) port issues, lack of containers and other issues. Problematic, but nothing completely shut down yet. Watching COVID-19 restrictions country by country." Computer and Electronic Products
"The impacts from Hurricane Ida on the petrochemical industry has put additional stress on an already fragile supply chain. Logistics with intermodal containers and motor carriers continues to be a challenge for planning deliveries of materials." Chemical Products
"In the U.S., labor availability is the most significant supply challenge for our company, with raw materials just behind. Plastic resin, polyurethanes, small-volume steel purchases and electronics are the biggest material challenges."
Transportation Equipment
"Lack of labor and escalating costs from every direction are very concerning." Food, Beverage and Tobacco Products
"Ocean freight delays creating disruptions in many areas. Southeast Asia supply continues to be challenged due to COVID-19 outbreaks." Furniture and Related Products
"Customer demand continues to swell as we prepare for the fourth quarter, and overall growth has been extremely good for the year. Supply chain concerns are growing beyond electronics and chips into most other commodities. Lead times are extending, shipping lanes are slowing, and we will not see an end to this in 2021."
Electrical Equipment, Appliances and Components
US SECTOR REPORT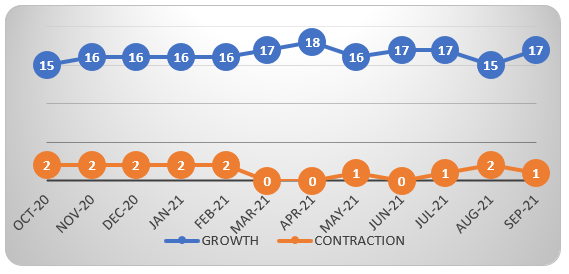 ISM GROWTH SECTORS (17): Furniture and Related Products; Petroleum and Coal Products; Machinery; Electrical Equipment, Appliances and Components; Computer and Electronic Products; Chemical Products; Apparel, Leather and Allied Products; Textile Mills; Paper Products; Printing and Related Support Activities; Miscellaneous Manufacturing; Food, Beverage and Tobacco Products; Fabricated Metal Products; Transportation Equipment; Primary Metals; Nonmetallic Mineral Products; and Plastics and Rubber Products.
ISM CONTRACTION SECTORS (1): Wood Products.
Credit: Institute for Supply Management®, ISM®, PMI®, Report On Business®. For more information, visit the ISM® website at www.ismworld.org.