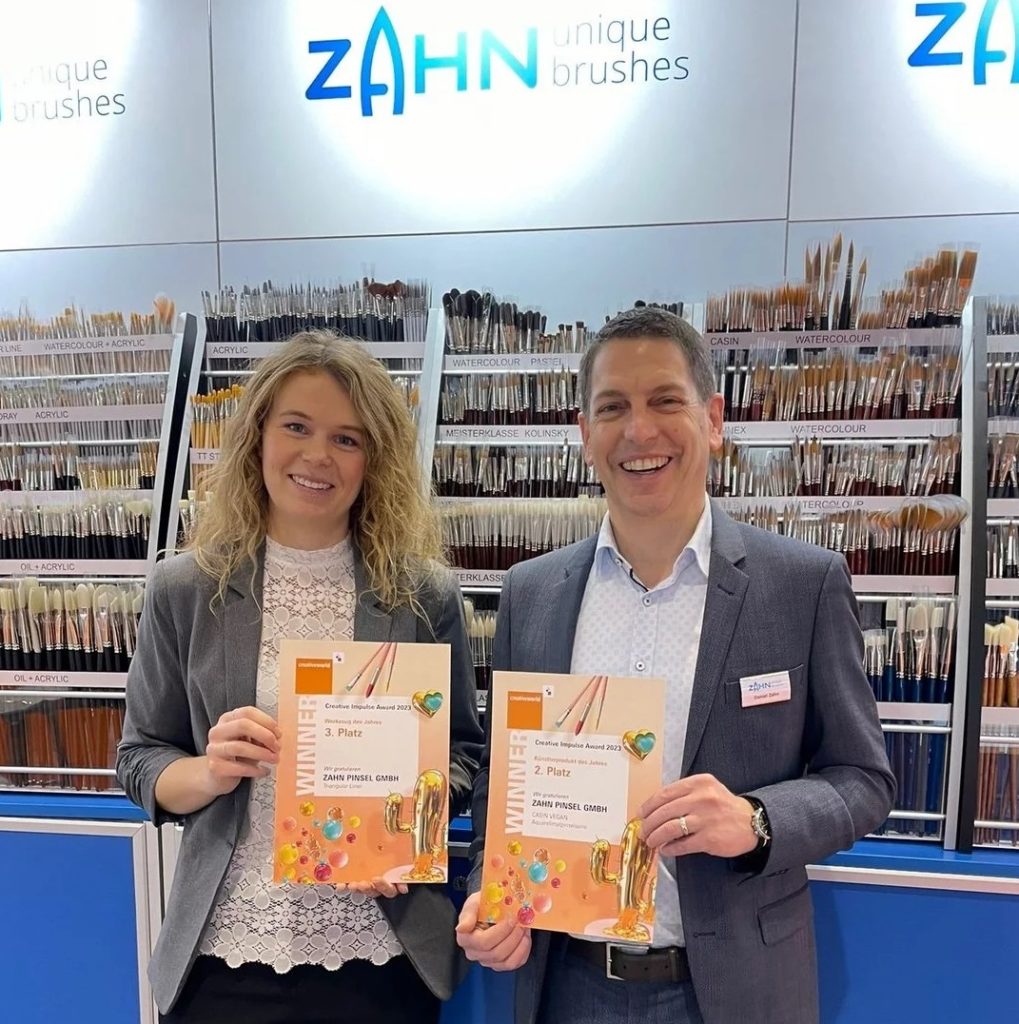 Zahn Unique Brushes recently collected two product awards at the Creative Impulse Awards 2023 announced at Creativeworld 2023 held in Frankfurt, Germany. Creativeworld ran February 4-7 and is the world's most prestigous trade fair for the international hobby, craft and artist supply sector, described as "an inspiring treasure chest for the creative community."
CASIN Vegan Watercolor Paint Brush Series-Artist Product of the Year
Zahn received second prize for this series of brushes in the Creative Impulse Award. The master class CASIN vegan watercolor brush series is the result of decades of development experience. The aim was to surpass the properties of high-quality natural hair brushes with vegan synthetic hair. The art lies in the individual coordination of different geometries, diameters, tapers and lengths of the synthetic hair as well as a specially developed manufacturing process. The master class CASIN vegan watercolor brushes are characterized by a high liquid absorption capacity and a previously unattainable dimensional stability.
Find detailed information on this brush series at: CASIN Vegan watercolor brush series
Triangular liner: Tool of the Year Award Category

Zahn's Triangular Liner brush series won third prize in the Tool of the Year category at the Creative Impulse Awards 2023. The triangular liner enables fast work with the highest precision. The special triangular shape is ideal for achieving very clean painting results in hard-to-reach corners. Precise, straight lines, corners and details are achieved in no time at all. For thicker colors we recommend the two-stage bicolor fiber. This is very robust and adapts perfectly to all surfaces. A solution for more fluid colors is the soft Falbex fiber, which adapts well to all surfaces and leaves no grooves.
Find detailed information on this brush series at: Triangular Liner Hard Bicolor