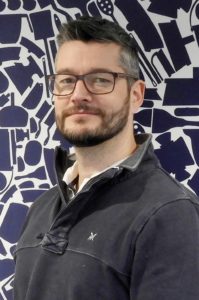 Hillbrush, the UK's largest manufacturer of brushware and hygienic cleaning tools has appointed experienced industrial designer David Lintern to lead the company's new product development program. 
With more than 20 years' experience in product and industrial design, the majority in the cleaning sector with well-known names such as Numatic and Addis, Lintern's role will include re-developing Hillbrush's existing cleaning tool ranges as well as leading the company's new product development plans, particularly in the area of specialist cleaning tools.
Lintern's appointment comes hot on the heels of Mariane Hodgkinson's appointment as food hygiene consultant at Hillbrush as part of the company's continued expansion into the food processing industry both in the UK and USA. 
Hillbrush is the UK's largest manufacturer of brushes and specialist hygienic cleaning tools, including products specifically for use in the food manufacturing industry. As well as manufacturing traditional brushes, which are sold all over the world, Hillbrush has innovated and expanded into new markets including the food industry. The company now produces a range of over 1,000 plastic hygiene and food preparation area cleaning tools, sold under its Hillbrush Hygiene brand, predominantly manufactured in-house on state-of-the-art injection molding and brush making equipment. 
Products in Hillbrush's Hygiene range use a unique and pioneering filament technology that ensures the highest standard of filament retention while the company's premium color-coded Anti-Microbial Cleaning Tools™ have been developed specifically for the high-risk hygiene food manufacturing and healthcare industries. These tools prevent the growth and reduce the risk of bacterial cross-contamination, minimize foreign body contamination and support HACCP and 5S best practice with color-coded segregation. 
Hillbrush Commercial rounds out the Hillbrush portfolio with a selection of products suitable for the janitorial, HORECA (hotels, restaurants and catering) and household markets. Altogether, Hillbrush offers an extensive range of brushware and ancillary cleaning equipment products from a single British manufacturer.
For more information, visit www.hillbrush.com