Manufacturing PMI numbers across the world pushed up in April with only the US and Germany showing a decline from March. Of course, Germany and the US were still above the 60 percent mark and notably both Italy and the UK also pushed into the 60th percentile as well. Despite issues from COVID-19, Indian manufacturing grew by one-tenth, while China showed a strong bump of 1.3 percent to reach 51.9 for April. All countries reported strong business optimism despite supply-chain issues and COVID-19 concerns in India.
GERMANY: The IHS Markit/BME Germany Manufacturing PMI cooled slightly from the March high of 66.6 to register at 66.2 percent in April. Expansion in output and new orders slowed up a bit, but is still near the record highs set in March. Continued pressure on capacity along with business confidence created upward momentum for employment in the sector for German manufacturers. Supply-side disruption is still an issue and with the input costs rising, output price inflation hit a new record high. Business outlook sentiment is at a record high.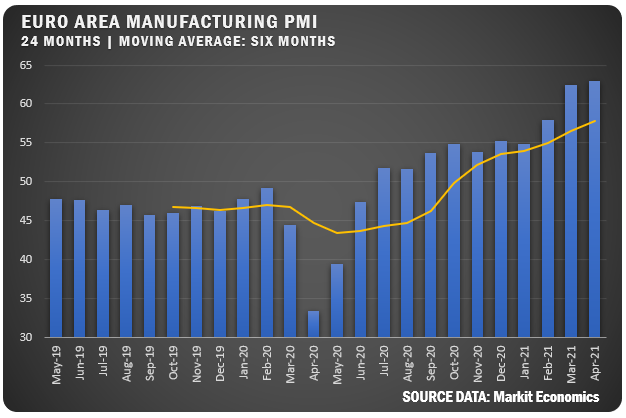 EUROZONE: IHS Markit reported a PMI of 62.9 percent for Eurozone manufacturers in April. This represented a new high for the area after registering 62.5 percent in March and stayed above the 50 percent level for the tenth straight month. Restrictions related to COVID-19 eased up and both manufacturing output and new orders were near the survey record highs set in March. Backlogs rose at record pace and job creation in the sector grew by the highest level since early 2018. Long lead times were still at record high levels and input cost inflation was the second-highest on record.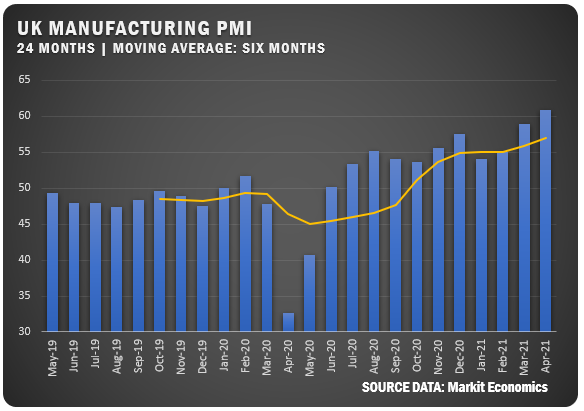 UNITED KINGDOM: The IHS Markit/CIPS UK Manufacturing PMI moved higher to register 60.9 percent in April representing the fastest rate of expansion for UK manufacturers sector since July of 1994. The sector saw growth in both output and new orders and employment rose at a strong rate as a result. Supply-chain delays and input shortages were still an issue leading to price inflation but business outlook optimism remained at a seven-year high as disruptions related to COVID-19 and Brexit are easing up.
UNITED STATES: The ISM® Manufacturing Business Survey Committee reported a 60.7 percent PMI for US manufacturers in April. That represented a decrease of four percentage points from the March reading of 64.7 percent."Manufacturing performed well for the 11th straight month, with demand, consumption and inputs registering strong growth compared to March," says Timothy R Fiore, ISM Survey Committee Chair. "Labor-market difficulties at panelists' companies and their suppliers persist. End-user lead times (for refilling customers' inventories) are extending. This is due to very high demand and output restrictions, as supply chains continue to respond to strong demand amid COVID-19 impacts."  (See the Full U.S. April Report)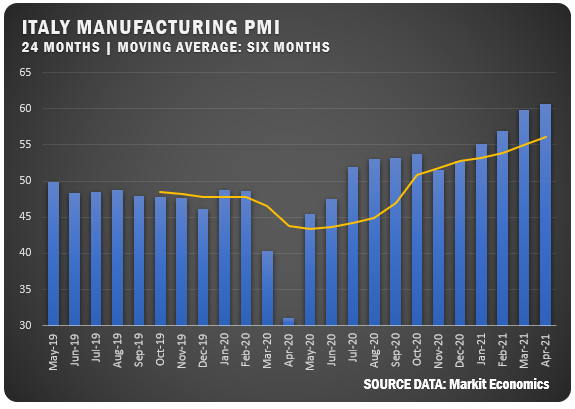 ITALY: IHS Markit reported a new all-time high PMI of 60.7 percent for Italian manufacturers in April. Output increased while growth for new work was the highest since April 2000. Job creation was the highest since 2018 and companies increased their buying activity causing pre-production inventories and stock of finished goods to rapidly decline. Input cost inflation increased steeply and companies increased selling prices at record pace. Business outlook was near the strongest on record.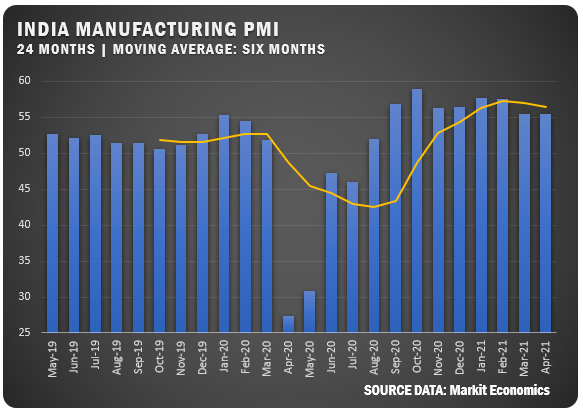 INDIA: IHS Markit reported an April PMI reading of 55.5 percent for Indian manufacturers, which was just one-tenth above the 55.4 PMI for March. New orders and output hit the slowest pace in eight months, due to the impact of COVID-19 in the country. However, new export orders increased to the fastest rate since October of 2020 and buying levels also expanded at steep rate. Employment declined (13 straight months) while input cost inflation rose at record levels and selling prices increased.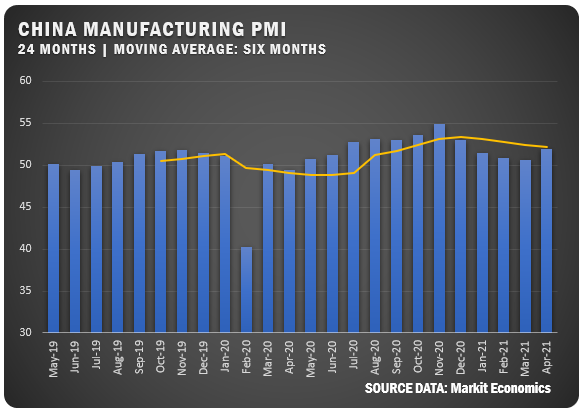 CHINA: The Caixin China General Manufacturing PMI hit a four-month high of 51.9 percent in April rising from 50.6 in March. Output and new orders rose the most since the end of 2020, while export sales improved for a second straight month. Employment rose after four straight months of decline. Supplier delivery times continued to extend. Higher raw material costs caused an increase in input prices and those costs were passed on to clients. "In the coming months, rising raw material prices and imported inflation are expected to limit policy choices and become a major obstacle," says Wang Zhe, senior economist at Caixin Insight Group.