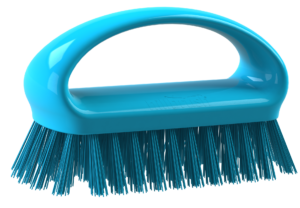 Hillbrush, the UK's largest manufacturer of brushes and specialist cleaning tools has redesigned several products to make them more effective and aesthetically pleasing while also reducing the use of materials.
The re-designed Hillbrush products, all featured in the company's new catalog, include an Ergonomic Grippy Scrub which is an update of the existing Hillbrush scrubbing brush. The new-look brush has a much wider gap for the user's hand and can be used in either direction making it much more versatile. The curved handle also means that pressure can be applied in multiple directions without compromising the grip and, so, giving a far better cleaning result.
Hillbrush has also added a new design Hand Scoop – which is showcased in the catalog for the first time — to its range of scoops. The streamlined design features a handle over the center of the scoop, creating a much more comfortable weight distribution as the center of gravity is now balanced to where the load will be its heaviest, so reducing strain on the user's wrist. Removing the rear extending handle to create a more compact design also allows greater maneuverability in smaller vats and containers to make scooping material much more efficient.
For more information, visit www.hillbrush.com.