Messe Freiburg has released the following information on coronavirus preparedness for Interbrush 2020: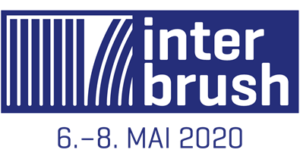 At Messe Freiburg, the health and well-being of our visitors and exhibitors is our top priority. We have been monitoring the global situation daily and are closely following the advice of the responsible health authorities with regard to the coronavirus. Currently, they do not see any reason to place restrictions on exhibitions in Germany. Therefore, we would like to let you know that Interbrush 2020 will take place as planned from May 6-8, 2020 at Messe Freiburg.
Right now, we cannot predict how the current situation will affect Interbrush 2020. The proportion of exhibitors and visitors arriving from China is relatively small, and we have not yet received any cancellations from exhibitors.
Messe Freiburg will follow and directly implement for all events the recommendations and guidelines of the World Health Organ-ization (WHO) as well as those issued by the Robert Koch Insti-tute and the health authorities, with which it is in regular contact. The recommendations are available at www.who.int/emergencies/diseases/novel-coronavirus-2019/ad-vice-for-public and www.rki.de/DE/Content/InfAZ/N/Neuartiges_Corona-virus/nCoV.html (in German).