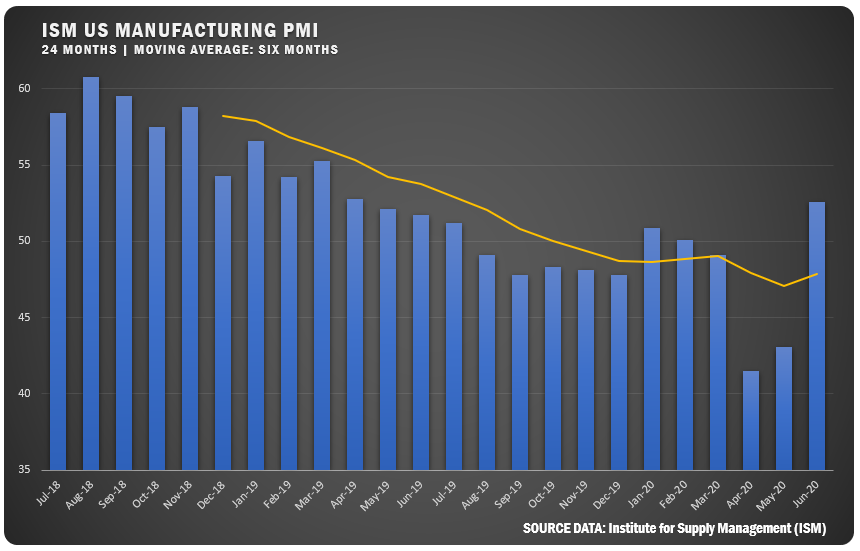 The Institute for Supply Management® reported a US PMI of 52.6 percent for June which represents the first month back to growth territory since the COVID-19 shutdowns. In fact, the figure eclipsed a strong pre-COVID January number of 50.9 and is the highest month for US manufacturing since April of 2019. The promising June performance rolled out to other countries as well, with China continuing to progress as the Caixin Manufacturing index reported a 51.2 number. The Euro Zone, Germany and Italy also showed improvement, but all remained in contraction territory under the 50 percent mark.
From the US manufacturing perspective, the June PMI was up 9.5 percentage points from the May reading of 43.1 percent and means the overall economy has expanded for a second straight month after April's contraction, which ended a period of 131 consecutive months of growth.
"As predicted, the growth cycle has returned after three straight months of COVID-19 disruptions. Demand, consumption and inputs are reaching parity and are positioned for a demand-driven expansion cycle as we enter the second half of the year. Among the six biggest industry sectors, Food, Beverage and Tobacco Products remains the best performing industry sector, and Computer and Electronic Products, and Chemical Products returned to respectable growth. Transportation Equipment and Fabricated Metal Products continue to contract, but at much softer levels," says Timothy R. Fiore, Chair for the ISM® Manufacturing Business Survey Committee.
Of the 18 manufacturing industries, 13 reported growth in June — Textile Mills; Wood Products; Furniture and Related Products; Printing and Related Support Activities; Apparel, Leather and Allied Products; Food, Beverage and Tobacco Products; Computer and Electronic Products; Plastics and Rubber Products; Chemical Products; Miscellaneous Manufacturing; Nonmetallic Mineral Products; Paper Products; and Electrical Equipment, Appliances and Components.
The four industries reporting contraction for April — Transportation Equipment; Primary Metals; Fabricated Metal Products; and Machinery.
EUROPEAN PMI
Looking at Europe overall, IHS Markit reported a number of 47.4 percent which was up eight percentage points from May and 14 points from the April low of 33.4. The bump still wasn't enough to escape contraction territory, but the report said confidence in about production in the year ahead has moved into positive territory.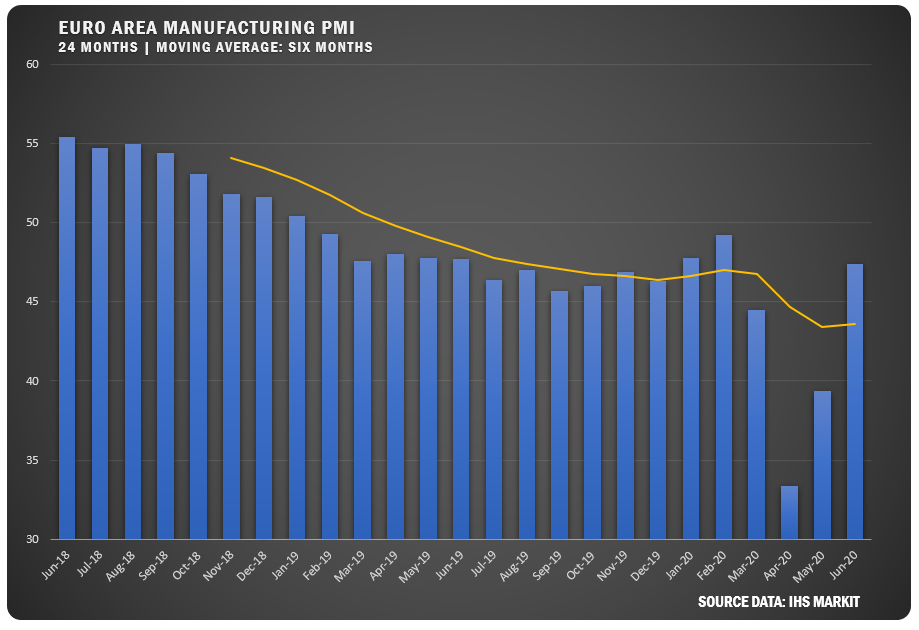 After just a small gain in May over the April low of 34.5, IHS Markit reported a June PMI for German manufacturers of 45.2 percent. While that figure is still well into contraction territory it was an 8.6 point improvement and the new figure was near the 12-month high of 45.7 from February. The report says German manufacturers are showing renewed optimism for the year ahead, but they also continued to cut payroll numbers based on under-utilized capacity.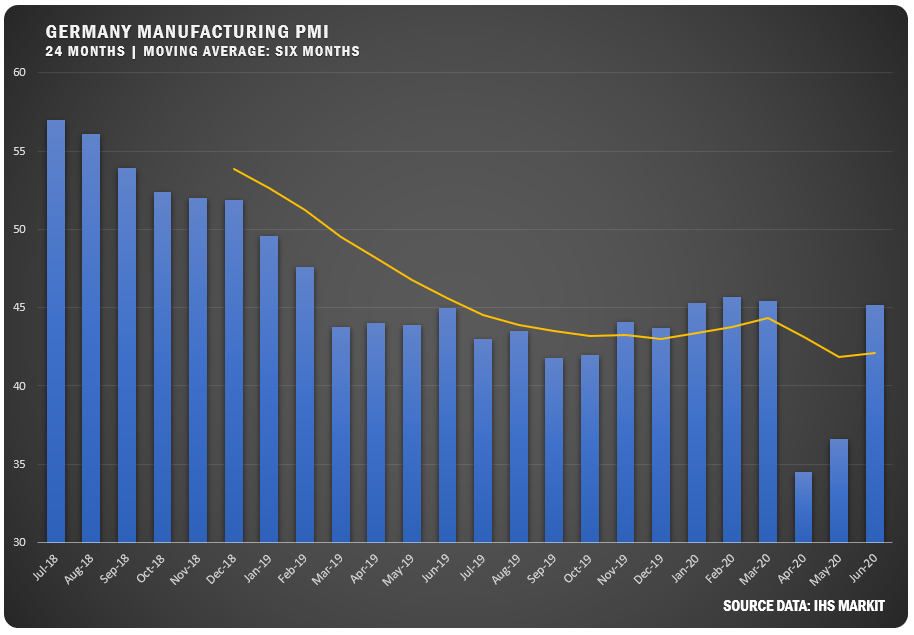 Italy saw more improvement, but the 47.5 percent number came in below the expectation of 47.7. It was the 21st straight month of contraction, but factory production for the first time in two years.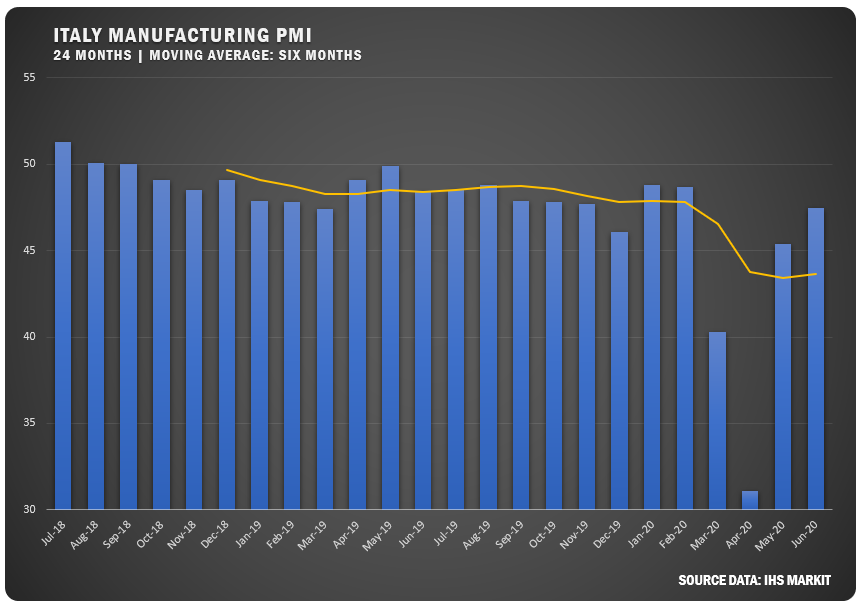 CHINA BEATS PROJECTION
The Caixin China General Manufacturing PMI came in at 51.2 outpacing the estimates of 50.5 and last month's mark of 50.7 percent. The report noted growth in output grew due to an increase in new orders, with buying levels hitting the highest mark since January 2018. However, weak global demand saw exports fall and employment dropped for the sixth straight month.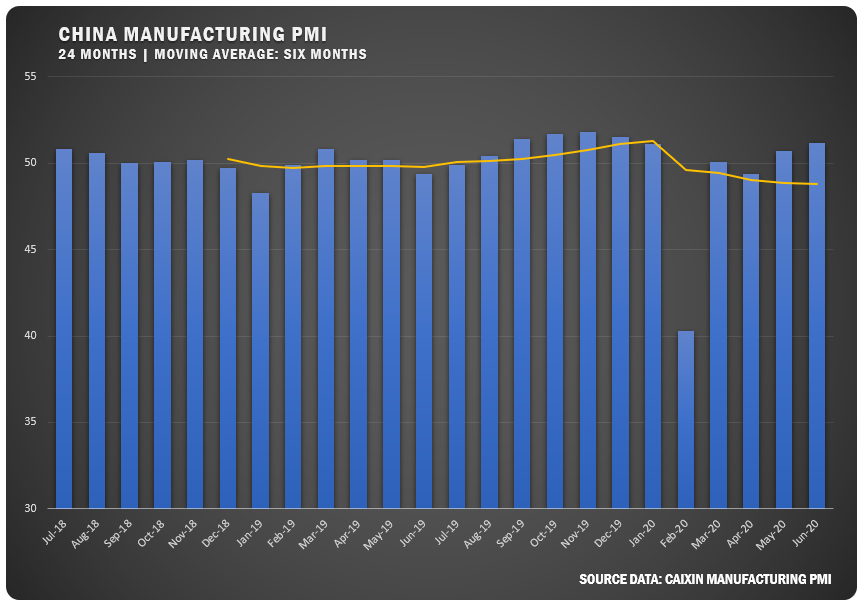 ISM® PANEL COMMENTS
"While we are seeing signs of an uptick in business activity, it is a slow recovery at this point." (Chemical Products)
"Gradually ramping production back in our plants. Most of our supply base continued to operate during COVID-19, so we are not seeing a significant supply risk. Will be monitoring supply chain financial health closely." (Transportation Equipment)
"Thankfully, we are in quite a few industries, so impact wasn't as harsh on us and more stable. However, during the last two weeks, our bookings have grown, and supply seems to be more readily available." (Fabricated Metal Products)
"Difficulty keeping up with a significant increase in demand related to COVID-19. Industry is up 62.5 percent versus [a] year ago. Supply challenges throughout the supply chain. Supply could be hindered if another wave of COVID-19 hits in the fall." (Food, Beverage & Tobacco Products)
"Market demand for refined products has increased as statewide quarantines have been lifted, but it is still below normal volumes." (Petroleum & Coal Products)
"Orders have picked up and are trending toward normal production requirements [volume similar to 2019 production]." (Plastics & Rubber Products)
"We are seeing an increase in orders as the economy starts to get rolling again. Slow and steady, sales are increasing. So far, so good." (Primary Metals)
"Looks like May was the bottom in terms of orders. June is stronger, and our order books are rebuilding." (Machinery)
"Demand is down significantly due to COVID-19 but is starting to stabilize. We are hopeful for recovery in the second half of the year." (Miscellaneous Manufacturing)
"The building industry continues to defy expectations, as we continue to rebound stronger from the previous month. Being an essential business across most states and a surge in DIY projects has fueled the industry forward. While the industry will follow the greater economy, we do believe it will be more resilient than most due to potential migration from larger cities and an undersupplied housing market." (Wood Products)