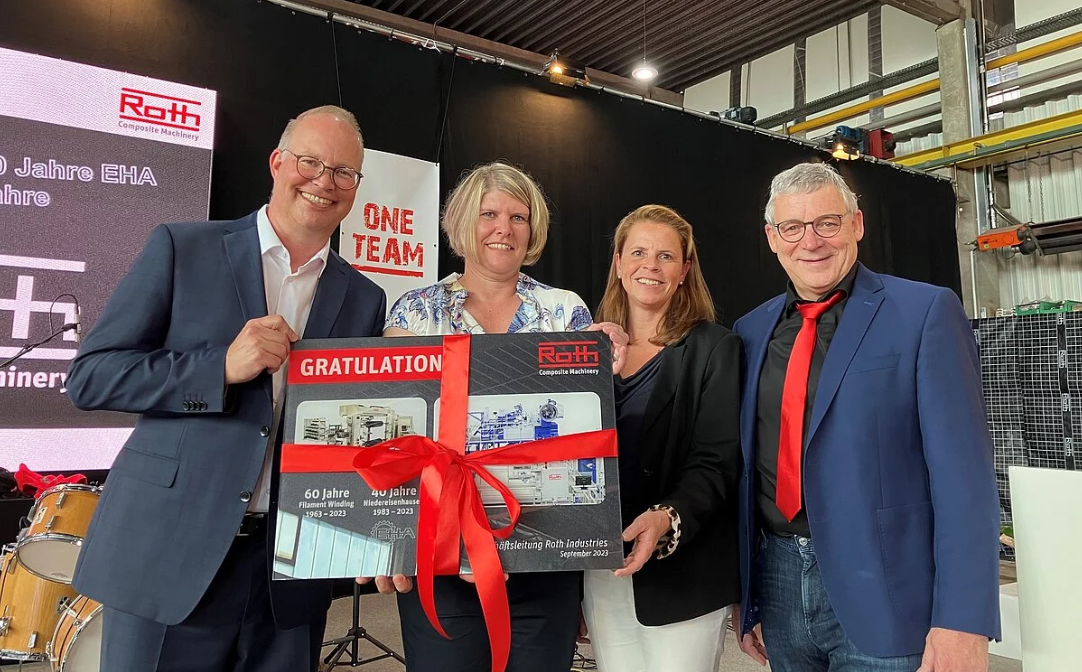 Roth Group of Companies honors future technology rooted in the hinterland with family festival
Roth Composite Machinery celebrated a double anniversary with a family party for the employees of all three locations: 60 years of filament winding expertise of the original company Bolenz & Schäfer and 40 years of coating expertise of the original company EHA. "Today we look back on a total of 100 years of curiosity, innovative strength and skill," says Managing Director Dr. Andreas Reimann.
Roth Composite Machinery is the result of the merger of three long-established companies from the region and combines their expertise: Since 1963, the former company Bolenz & Schäfer in Biedenkopf-Eckelshausen has been researching and developing filament winding technology. Filament winding is a manufacturing process in which fibers are first soaked in a liquid such as resin and then wound under tension over a rotating mandrel. This creates a solid, closed structure — a component made of a composite material. These parts are characterized by a very low weight and yet offer high strength. That is why they are used especially in lightweight construction applications, in automobile, ship or aircraft construction as well as in space travel and for wind turbines. And anyone talking about hydrogen or gas-powered vehicles cannot ignore tanks and containers with filament winding technology: "So this is an absolute future technology in which we are a globally recognized and sought-after player thanks to our decades of expertise," said Managing Director Dr. Andreas Reimann.
While Bolenz & Schäfer was driving expertise in filament winding, in the hinterland the company EHA in Steffenberg was involved with special coating technologies. EHA was founded in Angelburg in 1983 and moved to Steffenberg a few years later. In 1995, the company became part of the Roth Industries Group. Bolenz & Schäfer had already become part of the Roth Group in 1989 and, like EHA, initially continued to operate under its own name. In 1999, Bolenz & Schäfer's filament winding special machinery business was transferred to EHA. In 2016, EHA and the Burgwald-based company Schlesinger were merged and renamed "Roth Composite Machinery." Since then, under the motto "Your Performance – made by Roth," Roth Composite Machinery has stood for machine concepts that are individually adapted to customer requirements worldwide and are characterized by a high degree of specialization and exceptional quality.
 "Today we are celebrating the double anniversary of two significant roots of our company Roth Composite Machinery: 60 years of filament winding experience with its origins at Bolenz & Schäfer and 40 years of experience at EHA in coating and impregnation technology," explained the CEO of the Roth Industries Group, Matthias Donges, in his welcoming speech at the opening of the anniversary celebrations, "We want to take these impressive figures as an opportunity to provide an insight into the company and current projects and to pay tribute to our joint, successful development." The employees of all three locations from Dautphetal, Steffenberg and Burgwald with their families as well as former employees were therefore invited to the celebration. From the company headquarters in Buchenau came the Roth family of shareholders and the colleagues who work closely with Roth Composite Machinery.
Executives from the sister companies were also invited – for example, Frank Fuchs, Managing Director of Roth Hydraulics from Eckelshausen and thus "host" in the former Bolenz & Schäfer plant, conveyed his congratulations.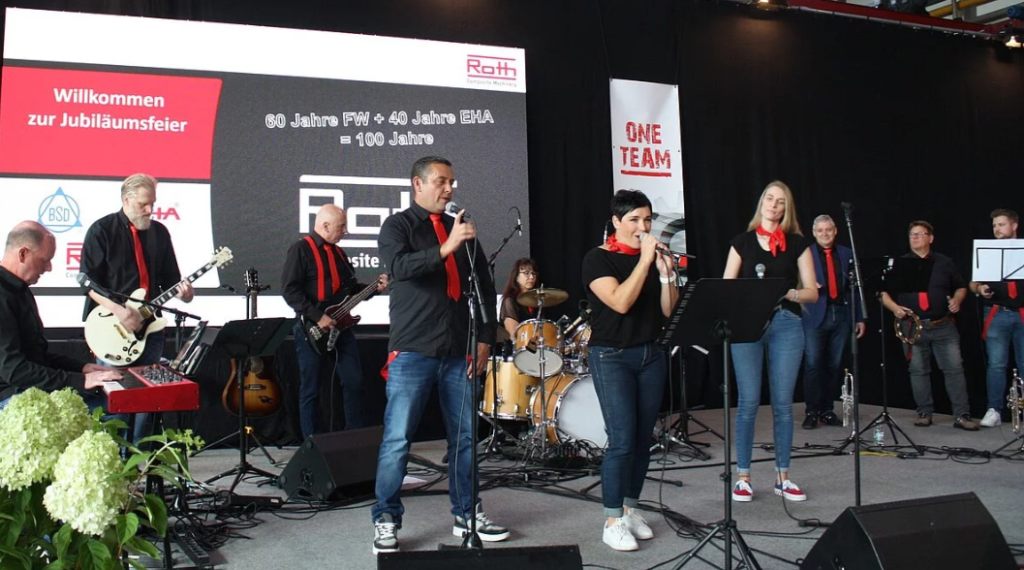 Managing Director Dr. Reimann thanked the employees: "Without your daily commitment, your curiosity, your inventiveness and your diligence, our joint success would be inconceivable." As a visible sign of appreciation, he symbolically handed over to works councillor Simone Leschhorn the signage for covered wooden seating groups that will serve as a break area for employees at the various sites in the future.
There was another gift for partner and senior boss Manfred Roth, on whose initiative the bundling of competences from the various companies had taken place: he received a specially made globe with the motto of the Roth Industries group of companies: "The Roth world composes solutions for a life full of energy".
The musical accompaniment was provided by the Roth Band, which is made up of musicians from all the different Roth companies. For the anniversary, they had put together a foray of well-known pieces from rock and pop history, from the 2014 World Cup hit "Auf uns" to the Tina Turner classic "Proud Mary".
To learn more about Roth Composite Machinery, visit www.roth-composite-machinery.com.