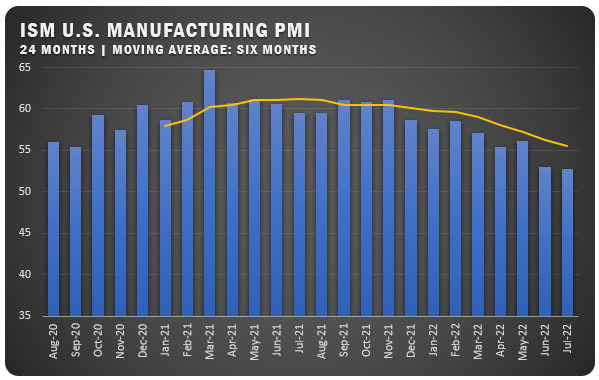 India, China and the UK also register above 50 percent for manufacturing PMI
The July ISM® Report On Business® gave a PMI reading of 52.8 percent for US manufacturers which was down from the June figure of 53.0 percent. This continued an overall downward trend for US manufacturing that dates back to October 2021. However, the reading meant the US sector stayed above the 50 percent line for the 26th straight month.
"Manufacturing performed well for the 26th straight month. There are signs of new order rates softening — cited in 16 percent of general comments, compared to 17 percent in June — as panelists are increasingly concerned about excessive inventories and continuing record-high lead times. Employment activity remained strongly positive in spite of the uncertainty with new order rates," says Timothy R. Fiore, Chair of the ISM® Manufacturing Business Survey Committee.
The ISM® report says the U.S. manufacturing sector continues expanding, but at a slightly slower rate compared to July as new order rates continue to contract, supplier deliveries improve and prices soften to acceptable levels. According to survey comments, companies continue to hire at strong rates, with few indications of layoffs, hiring freezes or headcount reduction through attrition. Panelists reported higher rates of quits, reversing June's positive trend. 
Price expansion eased dramatically in July, but instability in global energy markets continues. Sentiment remained optimistic regarding demand, with six positive growth comments for every cautious comment. Panelists are now expressing concern about a softening in the economy, as the contraction in new order rates contracted was tied to anxiety about excess inventory in the supply chain. 
ISM® REPORT COMMENTS (US Manufacturers)
"Material extended lead times still affecting business, and the challenging labor market is a huge factor too. Backlog is healthy; we just cannot deliver to customers due to material issues." [Computer and Electronic Products]

"Inflation is slowing down business. Overstock of raw materials due to prior supply chain issues and slowing orders." [Chemical Products]

"Chip shortages remain; however, the COVID-19 lockdowns in China are presenting even worse supply issues." [Transportation Equipment]

"Growing inflation is pushing a stronger narrative around pending recession concerns. Many customers appear to be pulling back on orders in an effort to reduce inventories." [Food, Beverage and Tobacco Products]

"New order entry has slowed down slightly; however, logistical issues have yet to improve. Long lead times for materials and labor shortages are still a major problem." [Machinery]

"Our markets are still holding up; however, I believe a slowdown is coming. We are cautious about going out too far with orders. Also, I believe the general market is in the beginnings of a recession." [Fabricated Metal Products]

"All markets are extremely busy but face headwinds that will eventually take a toll. Lead times and costs make large projects very challenging to budget, plan and execute. Routine work is also very difficult." [Nonmetallic Mineral Products]

"Current order books are full, but there have been signs of a slowdown beginning in the fourth quarter." [Plastics and Rubber Products]

"Slight improvement projected for our business for the next quarter." [Primary Metals]

"Continuing delivery and staffing issues have eaten away the bottom line." [Textile Mills]
US SECTOR REPORT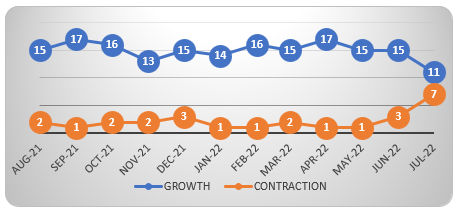 ISM® GROWTH SECTORS (11): Apparel, Leather and Allied Products; Nonmetallic Mineral Products; Petroleum and Coal Products; Printing and Related Support Activities; Computer and Electronic Products; Transportation Equipment; Machinery; Textile Mills; Primary Metals; Plastics and Rubber Products; and Electrical Equipment, Appliances and Components.
ISM® CONTRACTION SECTORS (7): Wood Products; Furniture and Related Products; Paper Products; Miscellaneous Manufacturing; Fabricated Metal Products; Food, Beverage and Tobacco Products; and Chemical Products.
GLOBAL MANUFACTURING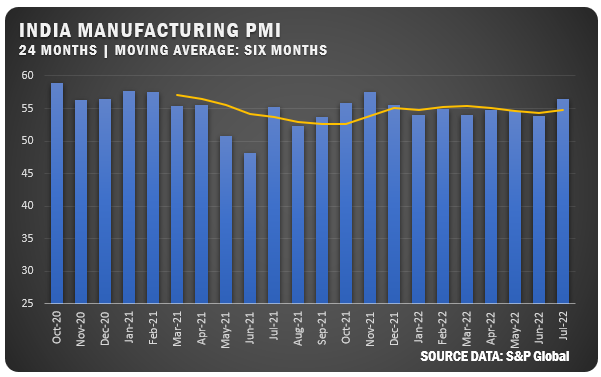 INDIA: The S&P Global India Manufacturing PMI pushed up to 56.4 percent for July after hitting a nine-month low of 53.9 percent in June. The strong reading was the highest mark for Indian manufacturers dating back to November of 2021. Output soared as new orders increased sharply, while export orders showed moderate growth. With continued improvement from suppliers, inputs increased. The business outlook improved marginally.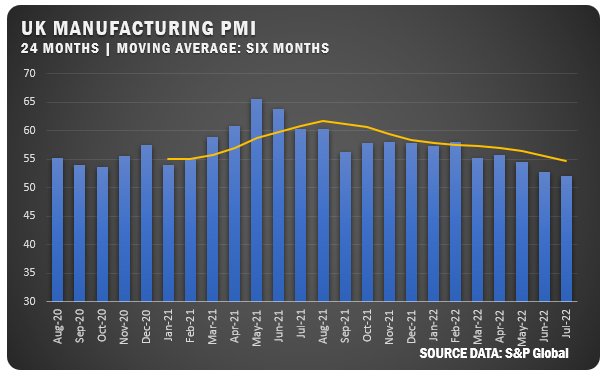 UNITED KINGDOM: The S&P Global/CIPS UK Manufacturing PMI was reported at 52.1 percent for July. The new figure represented the lowest mark since June 2020 and continued a downward trend that started in June 2021. Output decreased due to weaker demand, challenges in component supplies and transportation issues. New orders fell as the rising cost of living has made an impact in addition to rising concern about the future of the economy. linked to the cost of living crisis, weak domestic demand, client uncertainty, warmer-than-usual weather and lower intakes of new export business. Export orders from Europe, the US and China all declined, but employment rose and backlogs of work trended downward. The business outlook remained near the 24-month low set in June.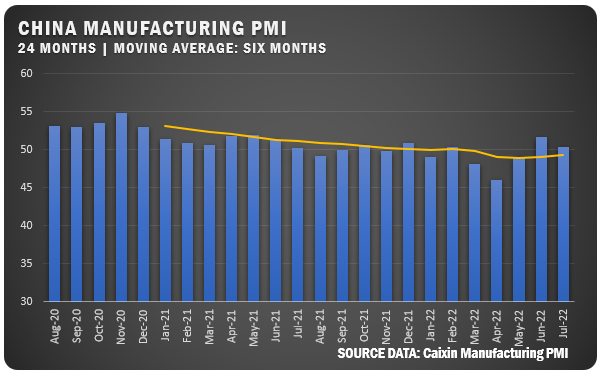 CHINA: The Caixin China General Manufacturing PMI dropped to 50.4 percent for the month of July. The slip from June's mark of 51.7 percent is still well above the recent low of 46.0 set in April. The setback was attributed to continued COVID-19 lockdowns and shortages of electricity. Output and new order growth slowed and jobs decreased for a fourth straight month. Despite some normalcy in June, delivery times for suppliers again extended in July due to stock and labor shortages from the lockdowns. Input costs decreased and output pricing reduced slightly as demand softened., amid softer demand conditions. The business outlook was weaker related to anxiety over COVID-19 outbreaks and low consumer demand.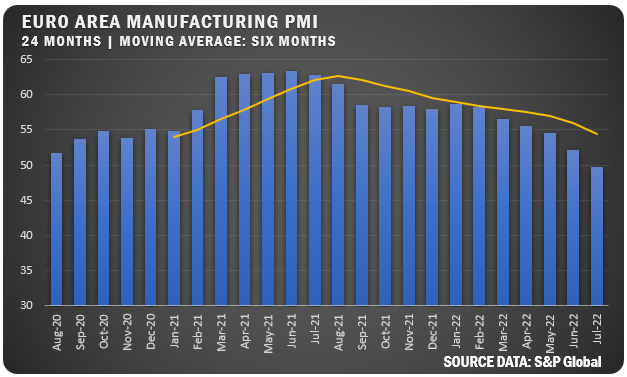 EUROZONE: The S&P Global Eurozone Manufacturing PMI fell to 49.8 percent in July 2022 from 52.1 percent in June. The new reading was the lowest since June of 2020. New orders fell for the third month in a row, while input and output costs fell to 17- and 15-month lows. Expectations for manufacturers were negative and more companies are expected to decrease output in the coming year.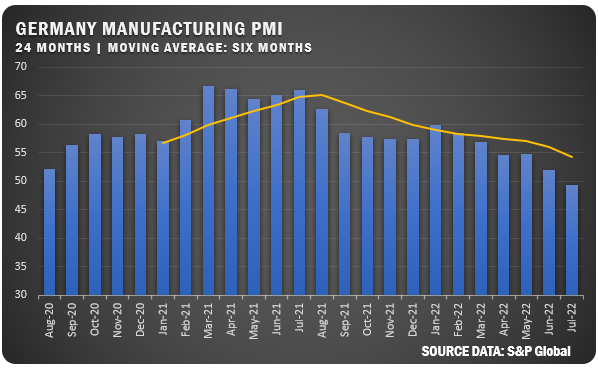 GERMANY: The S&P Global/ ME Germany Manufacturing PMI for Germany was reported at 49.3 percent for July to mark the first contraction in factory activity since June 2020. New orders hit a two-year low based on a reduction in investment spending, higher prices, increased stock levels for customers and ongoing supply chain challenges. Production levels declined and goods producers decreased purchasing activity for the first time since 2020 as inventories increased sharply. The decrease in demand reduced supply chain pressure which eased cost inflation and output prices. The business outlook was the lowest since 2020.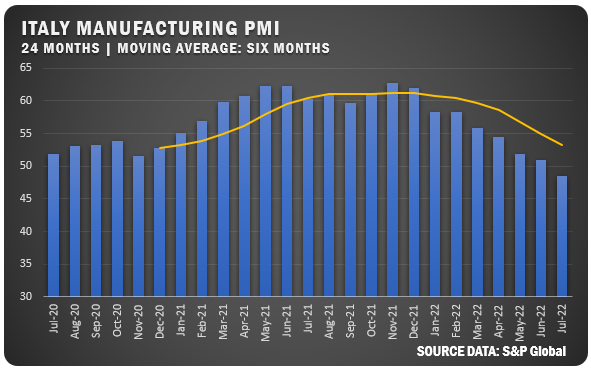 ITALY: S&P Global reported a 48.5 percent Manufacturing PMI for Italian manufacturers for the month of July — a sharp fall from the 50.9 June reading. Reduced demand and rising cost inflation, led to a strong decrease in manufacturing activity for Italy. Export orders decreased to their lowest level in 26 months. Employment also slowed significantly as backlogs of work declined. Cost inflation decreased as well as output prices, but the business outlook was still pessimistic.
Credits: Institute for Supply Management®, PMI®, Report On Business®. For more information, visit the ISM® website at www.ismworld.org.