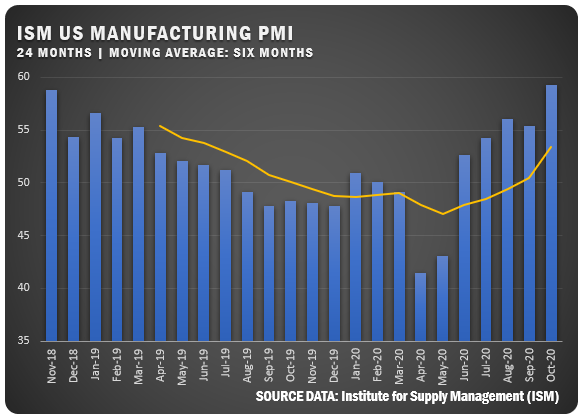 Economic activity in the manufacturing sector grew in October, with the overall US economy notching a sixth consecutive month of growth, say the nation's supply executives in the latest Manufacturing ISM® Report On Business®
ISM reported a US manufacturing PMI of 59.3 percent, up 3.9 percentage points from the September reading of 55.4 percent and the highest since September 2018 (59.3 percent). The figure indicates expansion in the overall economy for the sixth month in a row after a contraction in April, which ended a period of 131 consecutive months of growth.
The survey committee members reported that their companies and suppliers continue to operate in reconfigured factories, but they are becoming more proficient at expanding output each month. Panel sentiment was optimistic with two positive comments for every cautious comment — a slight decrease compared to September. Demand expanded, with the (1) New Orders Index growing at strong levels, supported by the New Export Orders Index expanding moderately, (2) Customers' Inventories Index at its lowest figure since June 2010 (35.8 percent), a level considered a positive for future production, and the (3) Backlog of Orders Index expanding at a slightly faster rate compared to the prior three months.
Among the six biggest manufacturing industries, five (Fabricated Metal Products; Food, Beverage and Tobacco Products; Chemical Products; Computer and Electronic Products; and Transportation Equipment) registered strong growth.
"Manufacturing performed well for the third straight month, with demand, consumption and inputs registering growth indicative of a normal expansion cycle. While certain industry sectors are experiencing difficulties that will continue in the near term, the overall manufacturing community continues to exceed expectations," says Timothy R. Fiore, Chair of the ISM Manufacturing Business Survey Committee.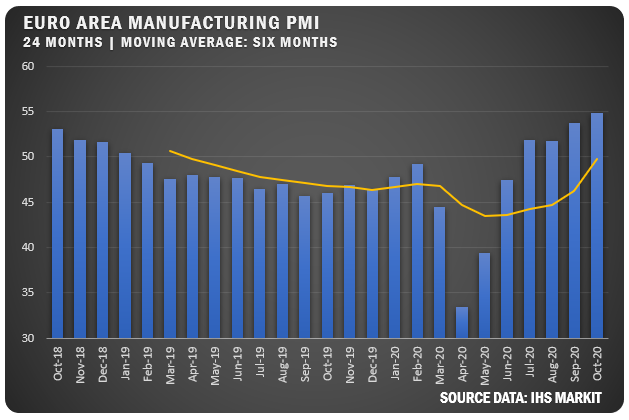 EUROZONE: IHS Markit reported Eurozone Manufacturing PMI of 54.8 for October 2020 to continue the upward trend that started in May. The figure is the highest for the area since August of 2018.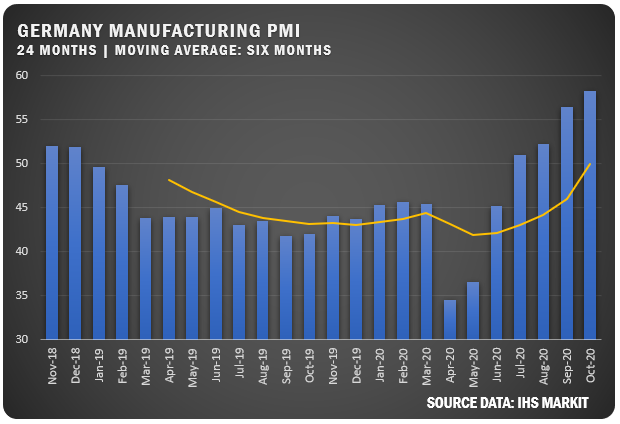 GERMANY: IHS Markit/BME reported a strong manufacturing PMI of 58.2 percent in October for Germany, which also helped drive the Eurozone performance. The sixth straight month of improvement now as the German figure at its highest level since December 2017. New orders rose at a record pace due to strong demand both domestically and abroad, with increasing sales to China driving new export orders to their highest level since 2017. Business confidence slowed slightly from the 32-month high set in September, but in general, German manufacturers remain optimistic.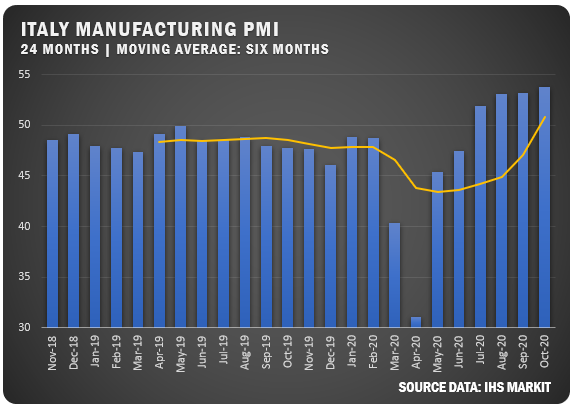 ITALY: After a relatively flat number in September, IHS Markit reported a bump for Italy's Manufacturing PMI to 53.8 percent for October of 2020. While not quite as strong as the US and German figures it was the best reading since March 2018 for Italian manufacturers thanks to increases in output, sales and total new orders. Exports also contributed to the gains with foreign order book volumes hitting their highest level since January 2018.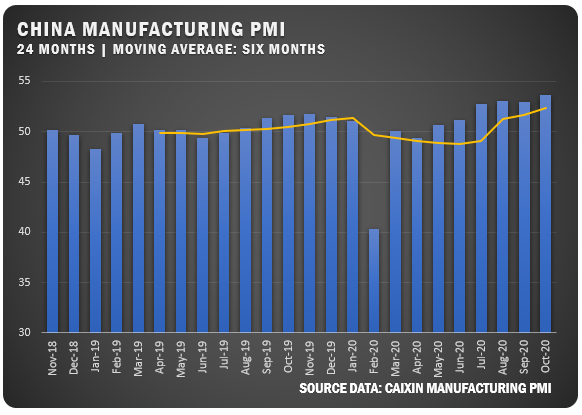 CHINA: The Caixin China General Manufacturing PMI rose to 53.6 for October after registered a slight decline in September. The number represented the highest reading since the data was recorded for Chinese manufacturers. Output and new orders grew significantly, but new export sales softened as the resurgence of COVID-19 cases affected a number of export markets. Employment grew for the second straight month and business confidence reached its highest level since August of 2014.
US SECTOR REPORT
ISM GROWTH SECTORS (15): Apparel, Leather and Allied Products; Fabricated Metal Products; Nonmetallic Mineral Products; Food, Beverage and Tobacco Products; Plastics and Rubber Products; Machinery; Furniture and Related Products; Paper Products; Wood Products; Chemical Products; Primary Metals; Computer and Electronic Products; Transportation Equipment; Electrical Equipment, Appliances and Components; and Miscellaneous Manufacturing. 
ISM CONTRACTION SECTORS (2): Textile Mills and Printing and Related Support Activities.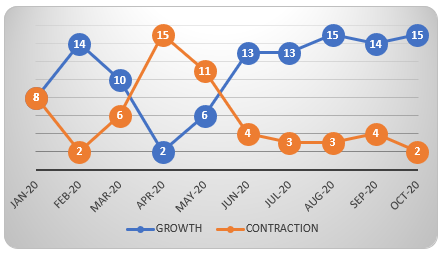 ISM® US RESPONDENT COMMENTS
"Business is almost back to normal levels; however, customers are still cautious with capital spending." (Machinery)
"Business levels have just about returned to pre-COVID-19 levels. Our company is remaining conservative with fixed-cost spending, knowing the uncertainties that lie ahead with COVID-19 and its potential impact globally." (Miscellaneous Manufacturing)
"Business continues to be robust. Sales are greater than expectations, and cost pressures are modest. There is posturing by suppliers on market price increases for corrugated and polypropylene, yet no firm price increases at this time. We expect a strong finish to 2020 and a solid start in 2021." (Chemical Products)
"Sales continue to be strong — up 4 percent this September compared to September 2019. The year-to-date level is still 21 percent below last year due to the [COVID-19] shutdown, but sales are stronger than expected and forecast to stay strong through the first quarter of 2021." (Transportation Equipment)
"Increased production due to stores stocking up for the second wave of COVID-19." (Food, Beverage and Tobacco Products)
"Continue to see increases in customer demand. We still are not back to pre-COVID-19 levels but are continually improving." (Fabricated Metal Products)
"Construction materials have leveled off but continue to be at an all-time high. Mills for board sheet stock have pushed out lead times citing increasing backlogs related to the pandemic and increased supply in the housing market." (Furniture and Related Products)
"October order books are the strongest we have seen in the past six months." (Paper Products)
"We continue to see stronger month-over-month orders in plastic injection molding." (Plastics and Rubber Products)
"COVID-19 continues to have an effect on supplier support and operations, more from a decreased labor perspective rather than unavailable material." (Computer and Electronic Products)
Source: Institute for Supply Management®, ISM®, PMI®, Report On Business®. For more information, visit the ISM® website at www.ismworld.org.