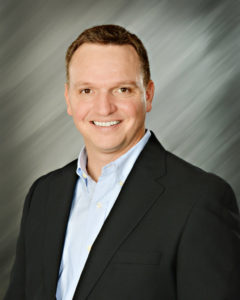 The Wooster Brush Company's board of directors has elected Ben Maibach to succeed Bill Fagert as the company's 10th president, effective May 1, 2020. At the same time, Bill Fagert, president since 2010, will become vice chairman of the board of directors.
Since joining Wooster Brush in 2014, Maibach has served as vice president of national accounts, held a seat on the company's board of directors, and most recently led the team overseeing Wooster's rebranding efforts. Maibach brings over 20 years of sales and marketing experience to his new role including time as vice president of sales at Waxman Consumer Group as well as multiple sales and marketing roles while at Moen and Newell Rubbermaid.
A life-long resident of the company's namesake city, Maibach is a graduate of both Wooster High School and The College of Wooster. He and his wife, Courtney, have been married for 11 years; together they have three children: Benny, Bo, and Cecily. They enjoy spending time together as a family and attending Smithville Brethren Church. Maibach serves on the Wooster City School Board Business Advisory Council and is also an Ohuddle Mentor.
"On behalf of all our employees, we want to thank Bill for his leadership over the past decade," Maibach says. "Following Bill as the next president is quite an honor, but we both agree that the success of Wooster Brush has never been about one person. The combined efforts of our 600+ dedicated employees will always be what makes our company great."
As part of this transition, Fagert will maintain certain administrative and financial responsibilities while he continues to assist and mentor Maibach in his new role. Fagert joined The Wooster Brush Company in 1985 and served as the company's vice president of finance before becoming president. Fagert said, "Ben is the right guy at the right time. He is a bright, proactive, optimistic leader with the skill sets to take Wooster Brush to new, higher levels. Ben has often been involved behind the scenes and is well prepared for his new role."
Scott Rutledge, vice president of marketing, will also be expanding his role as a result of this leadership change. As of May 1, Rutledge will become the new senior vice president of sales and marketing. Rutledge brings 29 years of Wooster Brush experience to his new position.