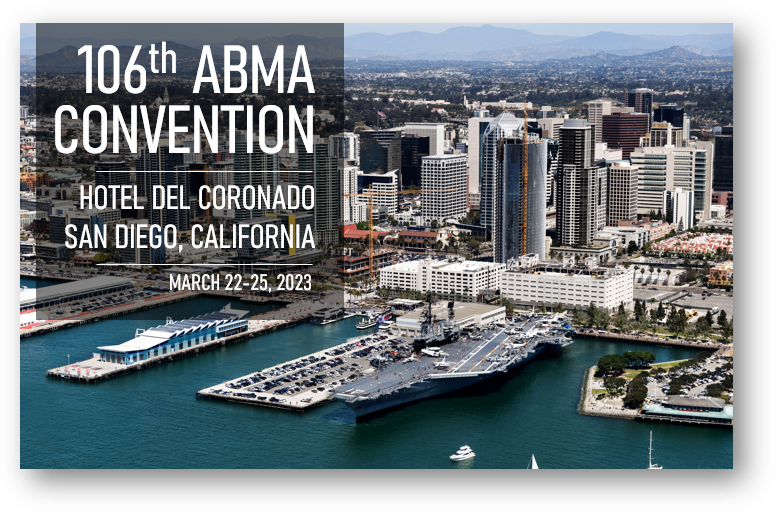 For attendees of the 106th Annual ABMA Convention to be held March 22-25, 2023, at the Hotel Del Coronado in San Diego, California, the event offers plenty of sessions and workshops but also balances that schedule with open time for activities and exploring. Check out all of the options and Brushware's guide to Coronado Island.
SUNRISE STRETCHING
Thursday and Friday, 6:00 am – 6:45 am
Join us on the South Paseo Lawn overlooking the ocean for functional stretching techniques targeted to solve daily aches and pains. These exercises can be completed anywhere: at home, in the office, or on the road. Often pain in one area of the body actually stems from a different area of the body that is tight or immobile. Learn tips and tricks that will improve your comfort and quality of life.
GOLF SCRAMBLE
Coronado Golf Course | Thursday, March 23rd, 2023, 1:00 PM – 6:00 PM
ABMA's annual scramble tourney is a great way to network, meet old friends, make new friends and have some fun. The Coronado Golf Course is ranked #5 nationally by Golf Digest for delivering the best golf value and is one of the City of Coronado's most treasured assets. Opened in 1957, it is a favorite destination for local residents and celebrities alike. Tee Times are available daily. The ABMA Scramble Tournament fee includes greens and tournament fees, a golf cart, range balls and prizes.
PICKLE BALL
Thursday, 1:00 PM – 5:00 PM
The courts are located at the Coronado Tennis club at 1501 Glorietta Boulevard, Coronado, CA 92118. It is a 10-minute walk to the courts and participants must bring their own equipment.
ABMA FOUNDATION NETWORKING DINNER
Sheerwater Restaurant | Thursday, 7:00-9:30 pm
A reservation/ticket is required and the event is limited to the first 40 people to sign up. The event is designed for attendees who would prefer to stay in and enjoy an opportunity to participate in a group dinner. Network with old ABMA friends and make new friends at this casual dinner event that immediately follows the Thursday Reception. Proceeds support the ABMA Foundation.
SANDCASTLE BUILDING LESSONS
Friday, 9:00 am – 11:00 am
This free activity for guests and family offers the chance to learn sandcastle-building tips and tricks from a seasoned professional. The activity is led by Bill Pavlacka, The Sandcastle Man, an award-winning artist well-known for his three-dimensional sand sculptures.
TOUR THE USS MIDWAY
Friday, 1:00 pm – 5:00 pm
With more than 30 restored aircraft and nearly 10 acres of exhibits and displays, the Midway brings you the most complete cross-section of carrier aviation in the world. From high up on the bridge down to the main engine room, taking you on a unique warship journey that engages the sights, sounds and aromas of this symbol of American freedom. Tour includes transportation to and from the Hotel Del Coronado and the Midway Museum, a self-guided audio tour (bring your own headphones) and access to all areas at your own pace.
BEACH LOUNGE AND UMBRELLA RENTAL
Friday, 1:00 pm-5:00 pm
Enjoy the surf and sun in the company of other ABMA members. Umbrellas and chairs will be reserved and set up in a grouping for ABMA members to extend fellowship and relationship building.
SUPPLIERS' RECEPTION/BEACH PARTY
Friday, 7:00 pm-10:00 pm
Break out your best Tommy Bahamas shirt and flip-flops for this beach bash! A little sand between your toes always takes away the woes.
Your Guide to Coronado Island
Welcome to Coronado Island in San Diego, California! This stunning island offers a unique blend of history, beauty, and excitement, making it a perfect destination for both business and leisure. Here's a comprehensive guide to help you make the most of your trip.
GETTING AROUND
Coronado Island is easily accessible by car, taxi, or public transportation. The San Diego Trolley provides regular service to the island from San Diego, with a stop at the Ferry Landing. Taxis are available at the Ferry Landing and can take you anywhere on the island. Alternatively, you can rent a bike or scooter to get around the island, which is a great way to explore and enjoy the scenery.
ATTRACTIONS
While you're on the island, be sure to check out some of its top attractions. The Hotel Del Coronado is a must-visit, with its beautiful Victorian architecture and rich history. Coronado Beach is also a popular spot, known for its wide sandy beaches and crystal-clear waters. If you're interested in history, visit the Coronado Historical Association Museum of History and Art, which showcases the island's rich past and cultural heritage.
OUTDOOR ACTIVITIES
Coronado Island offers a variety of outdoor activities to keep you active and entertained during your trip. Take a scenic bike ride along the bayside or rent a kayak to explore the waters around the island. You can also go fishing, sailing, or stand-up paddleboarding, or simply relax on one of the island's many beautiful beaches.
SHOPPING
If you're looking to do some shopping during your trip, Coronado Island has plenty of options. The Ferry Landing is home to several specialty shops, art galleries and boutiques, while the Orange Avenue shopping district offers a range of clothing, jewelry, and home decor stores. If you're looking for a casual bite, head to the Coronado Brewing Company also located on Orange Avenue.