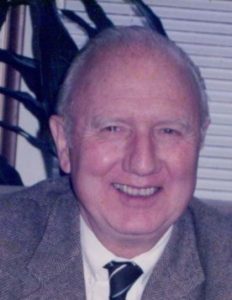 The ABMA reports that Richard Lawrence "Dick" Noon, age 89, passed away peacefully on Saturday, May 15, 2021. Born in Glen Ridge, N.J., Noon was a resident of Ridgewood for 50 years before moving to Hillsdale. He is a US Army veteran having served during the Korean War. Noon graduated from NYU School of Business and went onto serve as CEO and President of several companies including Avdel Corporation of Parsippany, N.J., Rae Metal of Cleveland, Ohio, and RL Noon Associates of Clifton, N.J., before retiring in 2013. He was a former member of the Upper Montclair Country Club.
He was predeceased by his wife of 57 years, Beverly on October 14, 2010.  A loving and devoted father, Noon is survived by his four children: Thomas of Lakewood Ranch, Fla., Brian of Chandler, Ariz., Brenda Chinn of Haymarket, Va., and Barbara Patterson of Cape Coral, Fla. Also, surviving are his six grandchildren: Ryan, Kara, Kyle, Cheryl, William and Shana and his four great-grandchildren: Ella, Nora, Hayden and William.
Visiting hours will be held on Friday, May 21, 2021, from 10:00 a.m. to 12:00 p.m, at the Vander Plaat Funeral Home (www.vpfh.com), 257 Godwin Avenue, Wyckoff, N.J. A funeral service will be held on Friday, May 21, 2021, at 12:00 p.m. followed by the interment at Valleau Cemetery, Ridgewood, N.J. As an expression of sympathy, in lieu of flowers, donations to your favorite charity would be appreciated in memory of Richard.