With many regions experiencing supply chain issues and labor shortages, most of the global manufacturing countries tracked by Brushware saw a decline in PMI readings for August compared to July. Italy was the only country that showed an improved PMI reading. Despite the challenges, business optimism remained strong across most of the regions and countries tracked.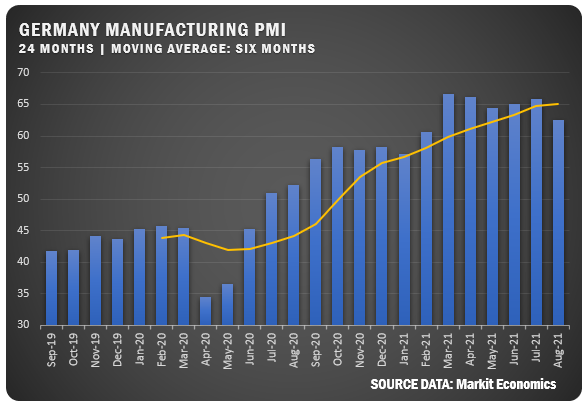 GERMANY: IHS Markit/BME reported a 62.6 percent August PMI for German manufacturers for a 3.3 percent drop from the previous month. Supply shortages caused output to significantly fall behind new orders. Increasing price pressure reduced business optimism, but employment rose for a sixth straight month as manufacturers looked to expand capacity.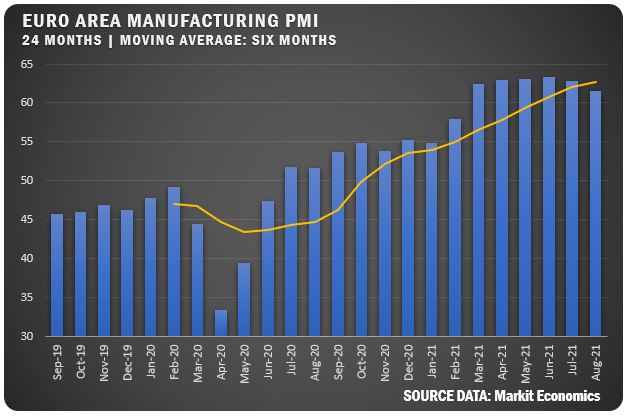 EUROZONE: IHS Markit reported a 1.3 percent PMI drop for Eurozone manufacturers from July as the area registered 61.5 percent for August. Output continued to increase as historic highs, but the rate of expansion slowed due to continuing supply chain challenges. Labor shortages slowed down the creation of new jobs and that created a surge in backlogs.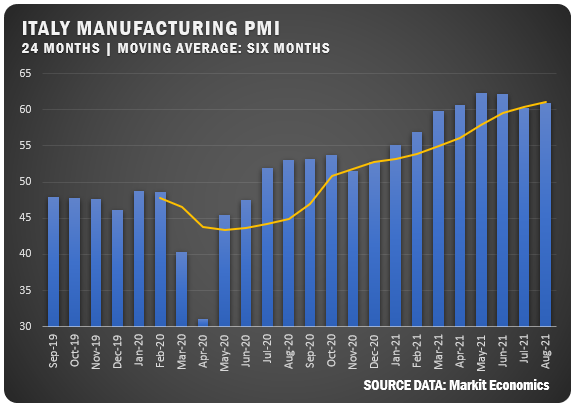 ITALY: IHS Markit reported 60.9 percent PMI for Italian manufacturers, which was a slight increase over the July reading of 60.3. Italy was the only country that Brushware tracks that saw PMI improvement in August and the 14-straight month above the 50 percent line. Based on high demand output and new orders showed strong increases to push up backlogs and new job creation. Inflation pressures are strong but the rate of increase slowed.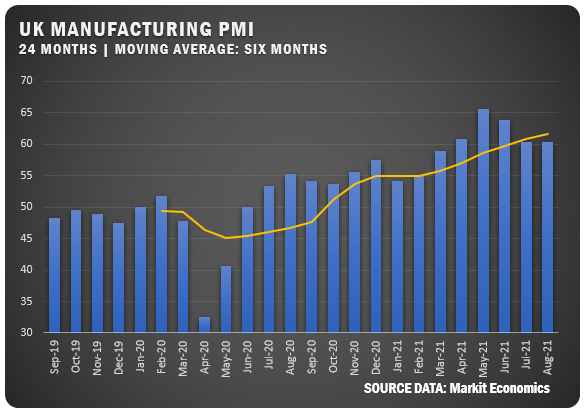 UNITED KINGDOM: IHS Markit/CIPS reported a 60.3 percent August PMI for UK manufacturers. This was just off the 60.4 reading from July. Overall, UK manufacturing remains strong despite materials shortages and delayed delivery. New orders and exports saw solid growth and new job creation increased. Input prices increased at historic levels and that drove up selling prices. Business optimism was at a three-month high.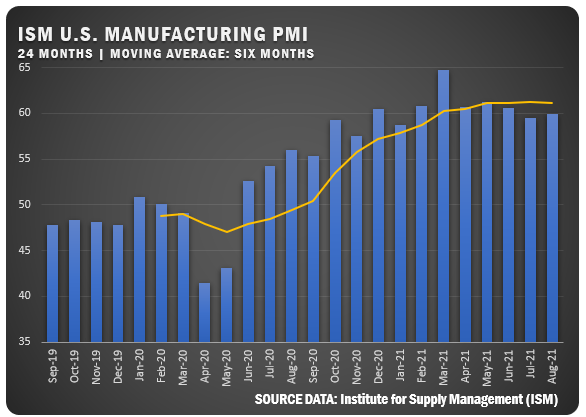 UNITED STATES: ISM® is reporting a manufacturing PMI® of 59.9 percent for US manufacturers for the month of August — an increase of 0.4 percentage points from the July reading of 59.5 percent. Despite the improvement, ISM panelists from the report say their companies and suppliers continue to struggle at unprecedented levels to meet increasing demand.
"Manufacturing performed well for the 15th straight month, with demand, consumption and inputs registering month-over-month growth, in spite of unprecedented obstacles. Panelists' companies and their supply chains continue to struggle to respond to strong demand due to difficulties in hiring and a clear cycle of labor turnover as workers opt for more attractive job conditions," says Timothy R. Fiore, Chair of the Manufacturing Business Survey Committee. "Disruptions from COVID-19, primarily in Southeast Asia, are having dramatic impacts on many industry sectors. Ports congestion in China continues to be a headwind as transportation networks remain stressed. Demand remains at strong levels, despite increased prices for nearly everything." 
RELATED: Full ISM August 2021 US Manufacturing Report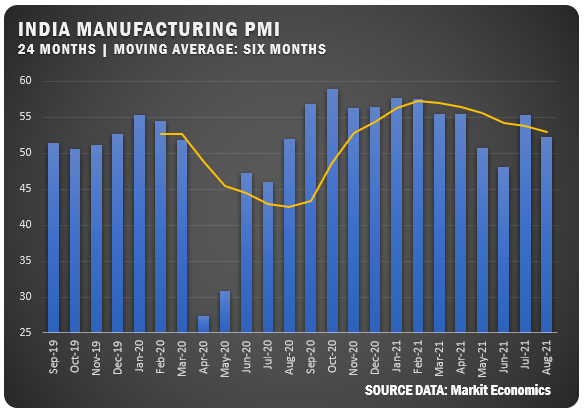 INDIA: IHS Markit reported a 52.3 percent PMI for Indian manufacturers in August 2021. That reading was down 3.0 percentage points from 55.3 in July as output and new order growth slowed in the wake of COVID-19 challenges for the country. Exports orders did grow slightly and employment declined after showing a positive number in July. Business optimism was week based on COVID-19 concerns.
CHINA: The Caixin China General Manufacturing PMI dropped to 49.2 percent for August to fall into contraction territory for the first time since April 2020. Cause for the decline include restrictions intended to slow new cases of the COVID-19 Delta variant in the country along with supply chain issues and higher raw material costs. Output, new orders and exports all declined. Employment decreased slightly but backlogs saw the fastest rate of improvement four months. 
Credit: Institute for Supply Management®, ISM®, PMI®, Report On Business®. For more information, visit the ISM® website at www.ismworld.org.