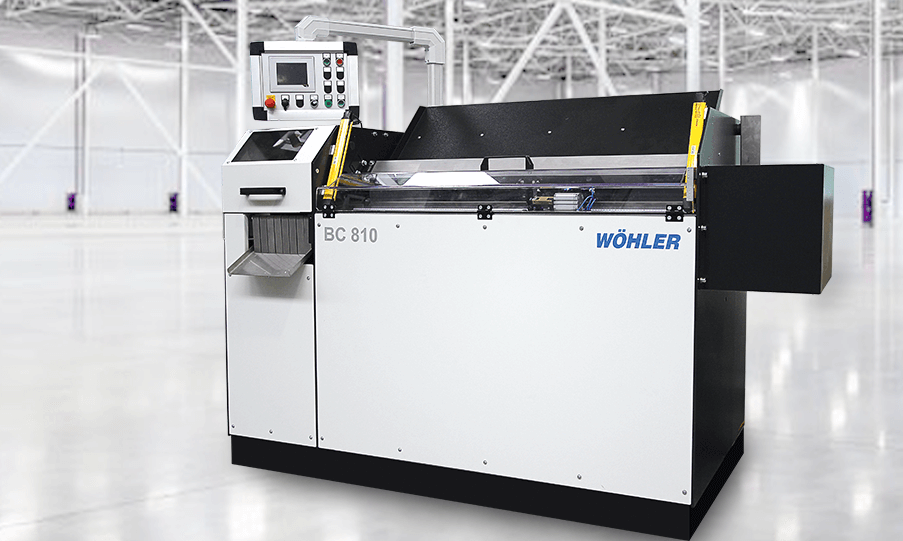 WÖHLER has announced a new generation update for their BC 810 Bundle Cutter that includes an option for automated bundle length sorting into two containers. The WÖHLER BC 810 is the high-end cutting solution in WÖHLER bundle cutters for synthetic, abrasive and natural filaments. The bundle cutter is fitted with a cutting plate with seven individual cutting bushings from 1.6″ to 3.5″ (40 to 90 mm).
The WÖHLER BC 810 features a clean-cut function with waste sorting as well as a remaining bundle sorting function.
Settings are made easily and intuitively by means of the set-up wizard via touch screen. Two different cut lengths can be selected simultaneously for optimal use of the material hanks. Entry of the remaining bundle length is likewise possible. The bundle cutter calculates the optimal cutting positions from the values entered in order to minimize the cut waste. Remaining bundle lengths which can still be economically used are sorted separately and ejected.
The new manual operation function allows the operator to cut not automatically cuttable materials both quickly and safely.
The optional module for cutting natural materials allows efficient cutting of natural materials wound with cord or tape. The remaining bundle length processing turns leftovers into saleable products, which is of particular interest in the case of more costly materials.
With the optional second ejection chute, the WÖHLER BC 810 sorts different jobs into 2 bins and saves the operator work.
HIGHLIGHTS
+ up to 70 cuts/min
+ precision cut tolerances +/- 0.008″ (0.2 mm)
+ short bundle lengths
+ extremely long blade service time
+ natural filament cutting (optional)
+ automatic remaining length processing (optional)
+ fast manual operation for flexible materials (optional)
+ fully automatic bundle length sorting into two containers (optional)
Learn more about the WÖHLER BC 810 at bt.woehler.com/en/machine/bc-810/.