Hillbrush, the U.K.'s largest manufacturer of brushes and specialist cleaning tools has rounded off a year of centenary celebrations with the official opening of a new warehouse and planting of a commemorative tree at Wiltshire headquarters. The new environmentally friendly "Centenary Warehouse" was declared officially open by Rt Hon Dr Andrew Murrison, MP for Southwest Wiltshire, at a special reception held on Friday, November 18, 2022, for Hillbrush customers and suppliers. The celebratory event offered a hog roast, tours of the brush manufacturing facility and a chance to network with colleagues in the brush making industry.
Hillbrush's new 1,800 square meter Centenary Warehouse will provide the company with significantly more space to hold product on site and therefore ensure high stock availability to customers. Hillbrush currently manufactures more than 2,000 product lines at Mere. In line with Hillbrush's focus on building a sustainable and environmentally friendly business, lighting inside the warehouse is movement activated to reduce energy and provide cost efficiency.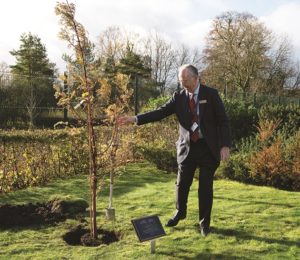 Hillbrush's milestone birthday was also marked by the planting of a Redwood tree at the front of the offices by company Chairman Philip Coward. Hillbrush was founded in 1922 by Fred and Bill Coward, Philip's father and uncle. Today, Hillbrush is still independent, family-owned and run with Philip's son Charlie Coward and nephew Andy Coward as current joint managing directors.
Charlie Coward, joint managing director Hillbrush says, "Who would have thought when Fred and Bill Coward set up the original Hill Brush Company in 1922 to serve the needs of the many farms and agricultural businesses surrounding Mere that we would be celebrating 100 years on. Hillbrush is a British manufacturing institution that has stayed true to its family values, while innovating and diversifying to stay ahead of the times. It was a delight to celebrate the company's centenary with our loyal customers and suppliers. We were delighted that our local MP the Rt Hon Dr Murrison was able to share the day with us and officially open our new warehouse".
To learn more about Hillbrush, visit www.hillbrush.com.