Trending Today Preview Event at The Inspired Home Show Spotlights Products That Enhance At-Home Entertaining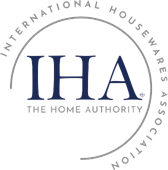 As economic concerns begin to dominate the news cycle and consumers feel the pinch of inflation, they are responding by bringing more experiential activities back into their homes. At-home entertaining is one of these activities and it is back in a big way. IHA's 2023 At-Home Entertaining Survey found that 82% of consumers expect to entertain in their homes at the same or increased frequency in the next year; 35% expect to entertain in their home more often or much more often.
Most in-home gatherings will take place in October – December 2023, according to the survey, followed by January – March 2023. The average at-home gathering will have 10 or fewer guests said 72% of survey respondents, followed by 22% with 11 to 26 guests. Buffet/self-serve is the preferred format for food said 46% of respondents, followed by a sit-down meal (22%). Self-serve/mix is the preferred drink format of at-home gatherings (72%), followed by prepared and served drinks (20%).
As part of the survey, IHA asked consumers to identify challenges associated with at-home entertaining. Top answers included post-event clean-up (30%) and preparing everything to be served at the same time (22%) — areas that the home + housewares industry has and can continue to innovate around.
In addition, the survey found that hosts send leftovers home with their guests 56% of the time, creating a post-event touchpoint — both for host and guests — that might previously have been overlooked.
In addition to solving the specific pain points mentioned, successful at-home entertaining requires items that help prep fantastic and often creative dishes — from cook + bakeware to kitchen electrics and gadgets — but also things that enhance the presentation of the home and the meal. This includes tableware, glassware, barware, bar accessories, textiles and decor— along with all of the outdoor living products that help consumers throw a great backyard BBQ or summer soiree.
With this in mind, the annual Trending Today Preview at The Inspired Home Show 2023 will focus on At-Home Entertaining. This two-hour pre-Show event on Saturday, March 4, 2023, will showcase exhibitors and products that consumers will look to fulfill their version of at-home gatherings. Show exhibitors validated within the At-Home Entertaining category are invited to participate in Trending Today. Participation is free, sign-up is on a first come, first served basis and space is limited to 60 exhibitors. Deadline to sign up is Feb. 14, 2023. To sign up, exhibitors can contact their Show sales manager or learn more here.
The Inspired Home Show 2023 will be held March 4-7, 2023, at Chicago's McCormick Place Complex. The Trending Today Preview will be held from 8:00 to 10 a.m. on Saturday for buyer and news media attendees before the Show floor opens. To register for a Show badge, go to TheInspiredHomeShow.com/register.