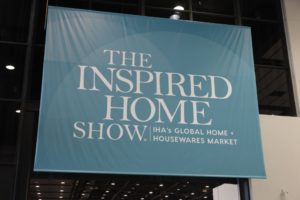 While there are many factors influencing consumers' perception of value these days, trust and quality emerged as the two most important in new research revealed today by IHA's trend expert Tom Mirabile at The Inspired Home Show 2023, IHA's Global Home + Housewares Market.
Mirabile, principal of Springboard Futures, gave a keynote session, "Consumers In Control: Insights & Imperatives for the New Economy," to reveal the 2023 Value Equation Index – new research highlighting the most important elements influencing consumers' purchases of home and housewares products today. The survey of 1,200 US householders was conducted just two weeks ago as a joint project between Springboard Futures, Project Partners Network and The Trend Curve.
Trust emerged as consumers' #1 consideration when purchasing home and housewares products. When choosing a retailer or brand for those purchases, 22% said trust was extremely important, 37% said very important, 37% said somewhat important and only 2% said not important at all.
Reputation for reliability/durability influenced their trust the most (60%), followed by prior personal experience (47%). (Respondents could select two factors.) Recommendations from others came in next (28%) indicating "we're delegating trust to other people" to some degree, says Mirabile.
Brand remains a significant aspect of trust, with 88% saying brand is extremely, very or somewhat important. For newer companies or even legacy brands looking to mix things up a bit, Mirabile pointed out that brand partnerships and licensing agreements are "an opportunity to reinvent yourself constantly." These relationships are probably under-utilized in the home and housewares industry, he added.
Quality came in as consumers' #2 most important consideration when purchasing home and housewares products. Durability (59%) and reliable performance (51%) were by far the top two factors in determining quality, followed by safety (21%), ease of use (19%), minimal care (16%) and material composition (13%).
Among the other factors influencing consumers' perceptions of value today are:
Price – When it comes to price, waiting for a promotion was most likely to influence a purchasing decision (39%). But free shipping/returns was a close second at 34%, a category that Mirabile says jumped from last year's survey. The ability to earn loyalty rewards also increased its influence from 2022.
Convenience – The pandemic created new standards for convenience that aren't going to go away, said Mirabile. Home delivery/store pick-up remained an important factor here, coming in as the #2 most important factor at 43%.
Ratings & Reviews – While there's definitely some skepticism of online ratings and reviews, consumers find negative reviews to be the most helpful for two reasons, says Mirabile. One is because they give brands an opportunity to respond or handle them publicly, and the other is they make positive reviews seem more authentic or genuine.
Lifestyle Benefits – Mirabile often encourages housewares brands to think about "What's the message (about lifestyle benefits) beyond what a product does?" and to include that on packaging and for associated online content. Respondents rated wellness (46%) as the top lifestyle benefit they're looking for, followed by family and friends (34%), learning new skills (33%) and emotional health (30%).
Shopping Experience – Most consumers say they do an equal mix of shopping in-store and online (43%), though the number of those who skew one way or the other tends to lean more heavily toward online only (37% vs 22%). "The opportunity here is to excite consumers in-store," Mirabile says.
Responsibility – Social responsibility is trending up in importance, and environmental responsibility is trending down. But that doesn't mean environmental concerns are going away, they may just be taking a back seat to other more pressing concerns right now.
Data privacy, safety and security – 75% of respondents said privacy, safety and security was extremely or very important.
A video recording of the program will be posted on the Show's website at www.theinspiredhomeshow.com/education/#keynotes.