One of the highlights of the 2022 FEIBP Congress, held September 21-24 in Prague, Czech Republic was the announcement of three winners for the Innovation award. The contest provides a well-deserved showcase for companies that are pushing the envelope and driving the brush industry forward. Here are the three winners for 2022:
First Place: Brosserie Brenet (France)
Washnet

–

Washing Machine for Brushes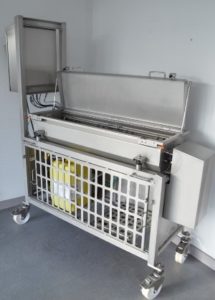 Brosserie Brenet's Washnet machine is a technical automatic cleaning system, that allows better hygiene control of industrial brushes used in the production of food. It simplifies cleaning considerably. Instead of using a water jet and a random quantity of detergents, we created a hygienically designed system that follows a consistent cleaning validation protocol.
"This prize is of immense importance to us! It rewards five years of research and testing. It shows that Washnet is a real asset for the good use of brushes," says Simon Lorillière, Brosserie Brenet. "Innovation is not only in product improvement but also in service. We would like to thank all the participants of the congress, the European brush makers, the fiber suppliers and the machine manufacturers who believed in our project and who voted
for us."
Second Place: Ebnat AG (Switzerland)
Purus Line

–

Bottle and Glass Brush, Dishwashing Brush, Sweeping Set and Broom

Peter Langenegger is pleased to have won second place in the Innovation Award contest. "This range is for the more idealistic customer," he says. "It is just what it is. Nothing more and nothing less. The name says everything: 'purus' means not only pure, but also plain, fair, undecorated and natural. Only renewable raw materials have been used for this range. The handle is made from high-quality FSC®-certified Swiss beech wood and is stamped with bristles made from bio-based plastic. Bio-based for purus means that the plastic is not derived from petroleum, but from castor oil."
Third Place: Zahn Pinsel GmbH (Germany)
Innovative Brush Assortment For Baristas

What has coffee to do with brushes? A lot, says Daniel Zahn from Zahn Unique Brushes. Global sales of coffee are rising steadily. The market share of high-quality portafilter coffee machines is also increasing in private households. Making coffee is a ceremony and part of a lifestyle. Coffee machines have to be cleaned after each use. For this purpose, Zahn Pinsel has developed a range of professional cleaning brushes, because they are high quality and most functional and save real baristas and semi-professionals a lot of time.
See full coverage of the 2022 FEIBP Congress in the November-December Brushware Digital Edition.
RELATED ARTICLES
FEIBP Congress 2022: Sustainability (Photos)