Packed Agenda for the 2023 Convention
The 106th Annual Convention of the ABMA took place last week at the prestigious Hotel Del Coronado in San Diego, California. The event, which was attended by a total of 183 participants, offered three-plus days of productive meetings, informative sessions and engaging events. The week's activities culminated with the popular Friday morning Face 2 Face session, which was extended this year to provide attendees ample time to connect and network. The Face 2 Face meeting format again received high praise from both attendees and exhibitors, who appreciate the opportunity to conduct focused meetings without interruption.
The event attracted 38 manufacturing companies and 33 suppliers resulting in a diverse and dynamic gathering. The convention's highlight was the keynote address by renowned hotelier, Larry Broughton of Broughton Hotels, on Thursday morning. Broughton is a highly accomplished entrepreneur, author, and keynote speaker. He is best known for his work as the Founder and CEO of Broughton Hotels, a collection of boutique hotels, which he built from scratch and grew into a successful enterprise. Broughton has been recognized with numerous awards for his business accomplishments, including Ernst & Young's Entrepreneur of the Year award. He is also the author of several books, including "VICTORY: 7 Entrepreneurship Principles to Lean on How to Succeed as an Entrepreneur" and "The Broughton Rules: Leadership Strategies for Entrepreneurs."
Broughton's presentation at the convention centered around 5 Star Strategies to Create an Extraordinary Life & Business, which included Removing Negative Self Chatter, Focusing on Strengths, Rapid Action, Expecting and Embracing Failure and the Pursuit of Excellence.
Expanding on that development theme, the ABMA Educational Institute ran concurrent sessions on Wednesday afternoon with topics that included Today's Digital Marketing Environment, by Justin Cramer of J. Cramer Graphics, Digital Workplace Solutions, presented by Rick Rietz, Vice President, DMC and Demystifying the World of Carbon Accounting & Sustainability, presented by Oren Jaffe, Senior Manager at SCS Global Services.
INNOVATION AWARD NOMINEES
The ABMA announced four nominees for the William A. Cordes Innovation Award with the nominees all being offered the opportunity to offer presentations and showcase information and product in the lobby. Voting for the winner was conducted through a QR code survey, with the Malish Corporation taking the top honor for their Flex Scrub Bristled Floor Pad.
Winner: Malish Corporation's Flex ScrubTM Bristled Floor Pad
The Flex Scrub bristled floor pad from Malish blends the familiarity and easy installation of a traditional pad with the robust cleaning power of a brush. Jeff Malish showed off the new product noting that traditional floor cleaning pads grind dirt and debris into the floor instead of cleaning while sweeping over grout lines and texture. Additionally, floor pads hold dirt and grime that nest in the pad and have to be flipped, washed out and frequently changed. The new Flex Scrub offers the same installation and familiar operation of a floor pad for existing floor machines but with superior cleaning power and a 50 to 1 ratio for outlasting traditional pads. As it reaches into grout lines it provides a deeper, more effective clean with far less maintenance which improves overall cleaning performance to reduce labor costs. The 50 to 1-lifetime ratio offers both cost savings and a reduction in landfill waste.
Nominee: Ergonline Bender Roller Handle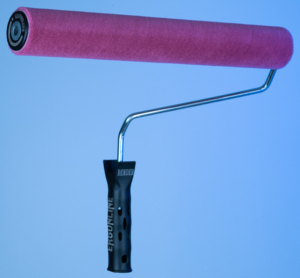 Ergonline's Bender Roller Handle bridges the gap between narrow wall rollers and heavier dual-arm floor rollers to introduce a wider, yet lightweight roller option that allows faster coverage. Egonline says typical wall and ceiling paint roller handles don't allow an adequate range of action for floor applications and are not designed to cover a large area, but the typical floor roller handle has a heavy structure and is not designed to be used where it doesn't get any support, such as wall and ceiling applications. Their new Bender Roller Handle is designed to provide a handle for paints, resins, and general covering products applications, that can be used for floors as well as walls and ceilings.
Nominee: MGG North America IVM/11SL + IVM/10SP
MGG North America showed off their new automated line with the IVM/11SL + IVM/10SP that can produce angular and flat paintbrushes inline.
Nominee: Wooster Brush GripTech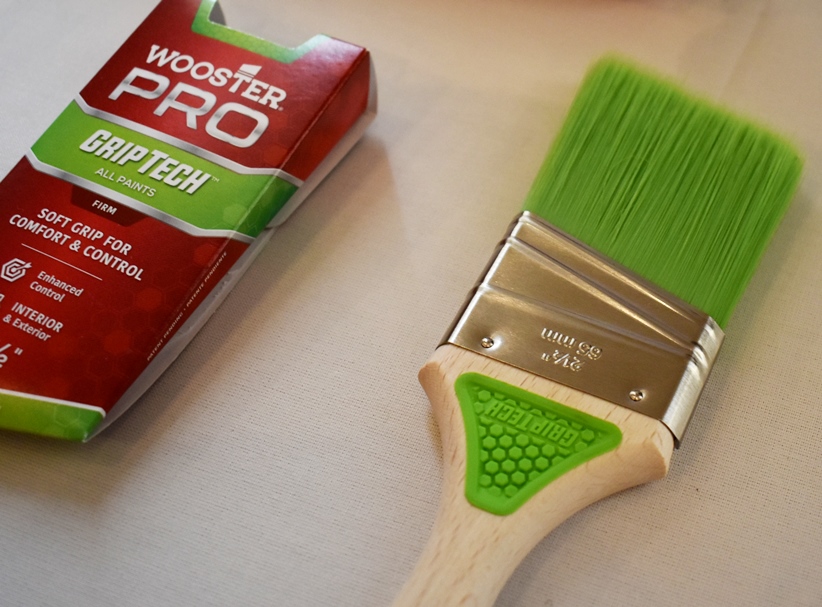 Wooster's new Pro GripTech features a rubberized grip built into both sides of the handle that offers better grip and increased comfort for better user ergonomics, while reducing the possibility of slip during prolonged usage.
NOTES
The 107th ABMA Convention will be held at Amelia Island in Florida, March 19-22, 2024. Notably, the event is shifting the normal schedule forward one day in the week, which means the traditional opening reception will be held on Tuesday as opposed to Wednesday. The event is shifting to reduce costs by moving away from the more expensive weekend days.
The 2025 ABMA Convention event location is targeted for Austin, Texas, to be held in March.
Chris Monahan, Brush Fibers, takes over as the new ABMA president. R.J. Lindstrom of Zephyr Manufacturing will serve as the new vice president and Todd Leventhal of Nextep Commercial Products will be treasurer. Greg Miller, The Mill-Rose Company, will serve in the role of past president.
Marco Momoli from BolognaFiere was in attendance to promote the new World Brush Expo to be held May 22-24, 2024 in Bologna, Italy. Momoli says the event is expecting 10,000 attendees and 200 exhibiting companies.